Sweden Drops Sex Assault Charges But Julian Assange Still Can't Leave His Diplomatic Rape Bunker
30.49K
Gabrielle Bluestone
08/14/15 09:40AM
Filed to: wikileaks
Police in Sweden say they're dropping the sexual assault charges against Julian Assange, not because he didn't do it—a question of fact that will never be answered—but because he successfully holed up in the Ecuadorian Embassy in London long enough that the statute of limitations has expired.
(Assange has been accused of coercing two Swedish women into unprotected sex in 2010; Swedish authorities say he purposely tore the condom he was using with at least one of the women. Assange says it's all an elaborate "honeypot" to lure him to Sweden so he can be extradited to the U.S. to stand trial on espionage charges linked documents published on Wikileaks. I say, why can't it be both?)
Anyway, Assange took the news well, bombastically speaking, via CNN:
On Thursday, Assange reacted to the news by lashing out at Swedish prosecutors over his legal troubles. "I am extremely disappointed," he said in a statement. "There was no need for any of this. I am an innocent man. I haven't even been charged."
But despite his technical victory, the flaxen secret-leaker can't leave his diplomatic Swedish rape bunker just yet—according to CNN, the still-pending rape charges against him won't expire until 2020.
Still, he seems to be making do.
Julian Assange Loses Final Appeal of His Swedish Arrest Warrant
17.19K
Jay Hathaway
05/11/15 02:23PM
Filed to: Julian Assange
WikiLeaks founder Julian Assange is still a wanted man in Sweden. The Swedish Supreme Court has denied Assange's appeal to lift a 2010 arrest warrant in connection to the sexual assault charges against him.
Assange, who has been living in the Ecuadorian embassy in London since 2012, refused to return to Sweden for questioning over allegations that he coerced two women into unprotected sex when he was there for 10 days in 2010. He claims the allegations were a made-up "honeytrap" to force him back to Sweden, where he could be extradited to the U.S. and tried on charges related to WikiLeaks' dump of classified military documents.
No charges have been filed against Assange in the U.S., and the U.S. hasn't requested that the U.K. extradite him. Chelsea Manning, the Army intelligence analyst who furnished those documents to Wikileaks, was convicted in 2013 under the Espionage Act and sentenced to 35 years in prison.
Swedish prosecutors have also arranged to question Assange in the U.K., which led the Supreme Court to conclude that there was no reason to drop the warrant—doing so wouldn't give Assange any incentive to return to Sweden.
Metropolitan Police remain stationed outside the embassy to arrest Assange for jumping bail in 2012, while U.K. authorities were still deciding whether to enforce the Swedish detention order against him.
"We are of course disappointed and critical of the Supreme Court's way of handling the case," Assange's lawyer, Per Samuelson, told Reuters.
"This decision has been taken without letting us close our argument."
[h/t Daily Mail, Photo: AP Images]
Did Julian Assange and Pamela Anderson Do It?
39.80K
Leah Finnegan
01/06/15 02:48PM
Filed to: blind items
There was a fun blind item revealed today on the unverifiable gossip site Crazy Days and Nights:
September 8, 2014
There is sleeping with someone for tracks, for a part, or even for money. This former A list mostly television actress turned A list celebrity and reality star for a paycheck slept with this international B list celebrity just for his endorsement. He didn't give it though.
Pamela Anderson/Julian Assange
It's difficult to gauge how much truth there is to such nuggets of gossip. However, in this case, the blind item might actually be onto something. According to the Daily Mail, a meeting between Assange and Anderson occurred last year, right around the time the original blind item was posted. As Charlotte Gill at the Mail reported:
Pamela Anderson has secretly visited Julian Assange at the Ecuadorian Embassy, I can report.
The meeting was arranged by fashion designer Dame Vivienne Westwood, a friend of them both.
Somewhat surprisingly, the Baywatch actress, right, was trying to encourage the Wikileaks founder to back her new foundation, which supports women who are victims of sexual abuse, among other causes.
Westwood later told Gill that Assange and Anderson "got on very well."
The Mail's report curiously lines up with CDAN's supposition. And given what we know about Assange's sexual proclivities, well… who watches the Baywatchers?
[Photo via AP, photo illustration by Jim Cooke]
Julian Assange Is Here to Discuss His New Book
Hamilton Nolan
09/15/14 10:50AM
Filed to: discussions
Julian Assange is the founder of Wikileaks. A wanted man, he recently began his third year living in the Ecuadorean Embassy in London. He joins us now to answer your questions about his new book, When Google Met Wikileaks.
Under Assange's leadership, Wikileaks released a stream of leaked classified material that gave an unprecedented look at the conduct of the U.S. government during the height of the "war on terror." Currently, he remains in legal limbo in the embassy, while his lawyers are appealing a Swedish court ruling that calls on him to be questioned by Swedish police over allegations of sexual assault in 2010.
The new book focuses on a 2011 meeting between Assange and Google chairman Eric Schmidt, and expands on the philosophical differences that arose over the future of the internet and society. Quoth the publisher: "For several hours the besieged leader of the world's most famous insurgent publishing organization and the billionaire head of the world's largest information empire locked horns. The two men debated the political problems faced by society, and the technological solutions engendered by the global network—from the Arab Spring to Bitcoin. They outlined radically opposing perspectives: for Assange, the liberating power of the Internet is based on its freedom and statelessness. For Schmidt, emancipation is at one with US foreign policy objectives and is driven by connecting non-Western countries to American companies and markets. These differences embodied a tug-of-war over the Internet's future that has only gathered force subsequently."
Julian Assange will answer your questions in the discussion section below beginning at noon Eastern time. Ask your questions now.
[Photo via AP. You can purchase Assange's book here.]
Julian Assange and Edward Snowden Speak to SXSW: A Tale of Two Rebels
Michelle Dean
03/10/14 04:19PM
Filed to: publicity

Julian Assange appeared, as we told you before, by Skype at SXSW over the weekend. Set against a green-screened Wikileaks logo, wearing a scarf straight from the Doctor Who wardrobe department and an actually respectable showing of facial hair, he gave his usual kind of speech. That's to say, one grounded in a lot of really honorable principles about disclosure and democracy and openness and how constant surveillance undermines all of those things.
Julian Assange Likens Security Reporters to Refugees in SXSW Interview
Speaking on Skype from the Ecuadorian Embassy in London, Julian Assange interacted with a crowd of…
Characteristically, of course, all of this noble talk was laced with moments of pure self-aggrandizement:
I am able to exist in a situation which is every national security reporter's dream, which is a land without police… It is a no man's land, as far as coercion is concerned.
If this boast of transcending the police weren't coming from a man who has been confined to an effective house arrest for more than 625 days, possibly he'd be right. Within that context, it's… not right.
Today, it was Edward Snowden's turn to remotely address the assembled (and those of us watching the live feed). Like Assange, he appeared in front of a green screen. His backdrop was what appeared to be the text of the Constitution. Compared to Assange's appearance, the talk was impressively specific and practical. For example: the moderator joked that Snowden's feed was coming through no fewer than seven proxy servers from Russia, where he lives in exile.
Most of his speech had a strange echo effect attached to it, which lent the whole affair a Hollywood futuristic quality. But it also gave you, as the moderators pointed out, an idea of how primitive and buggy a lot of the security tools available out there are. Which makes them less-than-totally-effective solutions for your average citizen just looking to keep their communications relatively anonymous.
Called upon to comment on Keith Alexander's worries that Snowden's revelations had undermined data security, Snowden offered a pithy and effective response, which characterized security officials as so eager to hack into others' communications they forgot to close their own backdoors:
They began eroding the protections of our communications in order to get an attacking advantage… It doesn't make sense to be attacking all day and never defending your vault, and it makes even less sense when you set the standards for vaults worldwide and leave a wide backdoor that anyone can walk into.
In case I'm not being clear: Snowden came off as an anti-Assange, the guy who'll show up to your videocast dressed for the office, to talk policy and sense. He didn't really talk about Assange or Wikileaks. Whereas Assange kept referring, over and over, to Snowden's bravery, to the bravery of the journalists who cover Snowden, etc. etc.
In short, Assange looked and talked like the older star welcoming the younger one to the biz, and not all that gracefully.
If you think I'm being too quick to apply the politics of celebrity to freedom fighters, you should probably read this excellent 26,000 word piece recently published by the London Review of Books. Written by Andrew O'Hagan, a regular contributor to the LRB and a contributing editor at Esquire, it details O'Hagan's abortive attempt to collaborate with Assange on a biography in 2011. O'Hagan was not particularly cowed by Assange's already well-documented eccentricities. But as he tells the tale, the far more frustrating thing about Assange was his (and Wikileaks') addiction to the spotlight:
He's not a details guy. None of them is. What they love is the big picture and the general fight. They love the noise and the glamour, the history, the spectacle, but not the fine print… even today, three years later, the cables have never had the dedicated attention they deserve. They made a splash and then were left languishing. I always hoped someone would do a serious editing job, ordering them country by country, contextualising each one, providing a proper introduction, detailing each injustice and each breach, but Julian wanted the next splash and, even more, he wanted to scrap with each critic he found on the internet.
And it was hard, watching both of these guys be livecasted over the last couple of days, not to agree with O'Hagan that Assange's thirst for fame has gotten the better of his project. Meanwhile Snowden's quieter jabs, filtered through the more "careful editing" they're receiving from the journalists who now have their hands on the documents, have probably been more effective than the Assange's sensational dump of cables.
The politics of being a freedom fighter have long been tangled up with those of celebrity. Part of your success at living "outside the law," no matter how just the cause, always seemed to depend on the romanticism of the public image you project. This helps explain why people like Jeffrey Toobin came out of nowhere to, with precious little actual experience of the man, preemptively accuse Snowden of being a "grandiose narcissist."
The Vain Media Cynics of the NSA Story
In the past week, we've witnessed the post-9/11 era's most comprehensive set of stories…
There was a hope that if Snowden could be turned into a jerk in the public eye from the get-go, the strange guy with the funny girlfriend, that nothing else he'd say would catch on. But here we are, a year later, and he has sparked a giant—and specific—tech conversation.
And the guy who made the much bigger, more deliberate celebrity splash, complete with the rich friends and the million-dollar book deal (that he promptly botched)—well, it really is a nice scarf he's wearing.
Photo Credits: AP.
Julian Assange Likens Security Reporters to Refugees in SXSW Interview
Dayna Evans
03/08/14 04:57PM
Filed to: julian assange
Speaking on Skype from the Ecuadorian Embassy in London, Julian Assange interacted with a crowd of SXSW festival attendees today in Austin regarding the NSA, Barack Obama's weak policies on civilian privacy, and the frailty of security reporting.
With an apparently shoddy connection that Assange joked was due to "low-quality surveillance," the interview was conducted by viewers texting questions to a moderator that then filtered through to Assange. The Wikileaks founder's talk was attended by over 3,000 people, and his remarks were typically pejorative, though vague.
On the subject of national security reporters, Assange commented,
"National security reporters are the new refugee. I see this as quite a positive phenomenon where people would have been completely crushed and not able to work anymore, they are able to use basic tenets of classic liberalism such as freedom of movement . . . to keep working."
Assange's comments on the NSA are more of the same chatter the security radical has given before.
"The NSA has grown to be a rogue agency. It has grown to be unfettered . . . the ability to surveil everyone on the planet is almost there, and arguably will be there within a few years. And that's led to a huge transfer of power from the people who are surveilled upon, to those who control the surveillance complex."
Assange also added that, "whenever you start to engage in any space, you run into state powers, you run into the deep state."
Edward Snowden and journalist Glenn Greenwald will speak in separate talks to audiences at the tech and music festival this week, with Snowden dialing in from Russia.
[Image via AP]
Julian Assange's Dramatic Fan Letter to Benedict Cumberbatch
Adrian Chen
10/09/13 02:59PM
Filed to: benedict Cumberbatch

"I believe that you are a decent person, who would not naturally wish to harm good people in dire situations," is probably the weirdest compliment person-shaped-internet-meme Benedict Cumberbatch has received in his career. But Julian Assange is not your normal tween Cumerbatch fan on Tumblr. Assange is not happy about the upcoming Dreamworks blockbuster The Fifth Estate, which features Cumberbatch as him, and he's written a very long letter to express his dissatisfaction.
Wikileaks today released the first of what threatens to be a number of correspondences between Benedict Cumberbatch and Assange over the movie. Cumberbatch told the Guardian of the exchange. "Of course I would hear and feel the protests of the man I was about to pretend to be. I'm a human being." In the end, though, he told Assange he was going to do the film and "give as much complexity and understanding of you as I can." He also lied to Assange that "the film is going to explore what you achieved… in a way that I think is nothing but positive." In fact the film, which is based in part on a book by scorned former Wikileaks associate Daniel Domscheit-Berg, portrays Assange as the over-controlling megalomaniac that he is. But, hey, it's a pretty good movie!
Here's the whole letter:
Date: Tue, 15 Jan 2013
From: Julian Assange
To: Benedict Cumberbatch
Subject: Message from Assange
Dear Benedict,
Thank you for trying to contact me. It is the first approach by anyone from the Dreamworks production to me or WikiLeaks.
My assistants communicated your request to me, and I have given it a lot of thought and examined your previous work, which I am fond of.
I think I would enjoy meeting you.
The bond that develops between an actor and a living subject is significant.
If the film reaches distribution we will forever be correlated in the public imagination. Our paths will be forever entwined. Each of us will be granted standing to comment on the other for many years to come and others will compare our characters and trajectories.
But I must speak directly.
I hope that you will take such directness as a mark of respect, and not as an unkindness.
I believe you are a good person, but I do not believe that this film is a good film.
I do not believe it is going to be positive for me or the people I care about.
I believe that it is going to be overwhelmingly negative for me and the people I care about.
It is based on a deceitful book by someone who has a vendetta against me and my organisation.
In other circumstances this vendetta may have gone away, but our conflict with the United States government and the establishment press has created a patronage and commissioning market – powerful, if unpopular – for works and comments that are harmful to us.
There are dozens of positive books about WikiLeaks, but Dreamworks decided
to base its script only on the most toxic. So toxic is the first book selected by Dreamworks that it is distributed to US military bases as a mechanism to discourage military personnel from communicating with us. Its author is publicly known to be involved in the Dreamworks production in an ongoing capacity.
Dreamworks' second rights purchase is the next most toxic, biased book. Published and written by people we have had a bitter contractual dispute with for years, whose hostility is well known. Neither of these two books were the first to be published and there are many independent authors who have written positive or neutral books, all of whom Dreamworks ignored.
Dreamworks has based its entire production on the two most discredited books on the market.
I know the film intends to depict me and my work in a negative light.
I believe it will distort events and subtract from public understanding.
It does not seek to simplify, clarify or distil the truth, but rather it seeks to bury it.
It will resurrect and amplify defamatory stories which were long ago shown
to be false.
—-
My organisation and I are the targets of political adversary from the United States government and its closest allies.
The United States government has engaged almost every instrument of its justice and intelligence system to pursue—in its own words—a 'whole of government' investigation of 'unprecedented scale and nature' into WikiLeaks under draconian espionage laws. Our alleged sources are facing their entire lives in the US prison system. Two are already in it. Another one is detained in Sweden.
Feature films are the most powerful and insidious shapers of public perception, because they fly under the radar of conscious exclusion.
This film is going to bury good people doing good work, at exactly the time that the state is coming down on their heads.
It is going to smother the truthful version of events, at a time when the truth is most in demand.
As justification it will claim to be fiction, but it is not fiction. It is distorted truth about living people doing battle with titanic opponents. It is a work of political opportunism, influence, revenge and, above all, cowardice.
It seeks to ride on the back of our work, our reputation and our struggles.
It seeks to cut our strength with weakness. To cut affection with exploitation. To cut diligence with paranoia. To cut loyalty with naivety. To cut principle with hypocrisy. And above all, to cut the truth with lies.
The film's many distortions buttress what the prosecution will argue. Has argued. Is arguing. In my case, and in that of others. These cases will continue for years.
The studio that is producing the film is not a vulnerable or weak party.
Dreamworks' free speech rights are not in jeopardy – ours are.
Dreamworks is an extremely wealthy organisation, with ties to powerful interests in the US government.
I must therefore question the choices and motives behind it: the opportunism, fears and mundanity; the unwritten rules of film financing and distribution in the United States; the cringe against doing something useful and brave.
I believe that you are a decent person, who would not naturally wish to harm good people in dire situations.
—-
You will be used, as a hired gun, to assume the appearance of the truth in order to assassinate it. To present me as someone morally compromised and to place me in a falsified history. To create a work, not of fiction, but of debased truth.
Not because you want to, of course you don't, but because, in the end, you are a jobbing actor who gets paid to follow the script, no matter how debauched.
Your skills play into the hands of people who are out to remove me and WikiLeaks from the world.
I believe that you should reconsider your involvement in this enterprise.
Consider the consequences of your cooperation with a project that vilifies and marginalises a living political refugee to the benefit of an entrenched, corrupt and dangerous state.
Consider the consequences to people who may fall into harm because of this film.
Many will fight against history being blackwashed in this way. It is a collective history now, involving millions of people, because millions have opened their eyes as a result of our work and the attempts to destroy us.
I believe you are well intentioned but surely you can see why it is a bad idea for me to meet with you.
By meeting with you, I would validate this wretched film, and endorse the talented, but debauched, performance that the script will force you to give.
I cannot permit this film any claim to authenticity or truthfulness. In its current form it has neither, and doing so would only further aid the campaign against me.
It is contrary to my interests, and to those of my organisation, and I thank you for your offer, and what I am sure is your genuine intent, but I must, with inexpressible regret, turn it down.
Julian Assange
xx
Army Releases Photo of Wikileaker Bradley Manning in Wig and Makeup
Max Read
08/15/13 12:00PM
Filed to: bradley manning

A photograph of Wikileaks leaker Bradley Manning wearing makeup and a blonde wig was released yesterday by the army as part of documentation related to Manning's trial. It's the first such photo of Manning, who is transgender.
The photograph was attached to emails Manning had sent to a therapist, Capt. Michael Worsley, and an NCOIC, Sgt. Paul Adkins, about gender identity, in which the army private expressed a belief that a career in the military might "get rid of it." Manning's lawyers introduced the email to Adkins and accompanying photograph as part of the trial. (Update to note: This paragraph has been changed to clarify that it was, specifically, the photograph to Adkins that was introduced as evidence.)
Manning apologized yesterday for leaking classified State Department cables Wikileaks, releasing a statement that Wikileaks founder Julian Assange implied was forced: "It took three years and millions of dollars to extract two minutes of tactical remorse from this brave soldier," he said in a statement.
Wikileaks Is Back. Goddammit.
Adrian Chen
06/24/13 02:55PM

Where's Edward Snowden? As I write this, only a handful of people know exactly the location of the world famous NSA whistleblower, after he apparently ditched his flight from Moscow to Cuba last night. One of those people is Wikileaks founder Julian Assange. Snowden is "safe and healthy" and his "spirits are high," Assange told reporters begging for any scrap of information on a conference call this morning. It is this secret knowledge that has paradoxically thrust Assange's anti-secrecy outlet back into the media spotlight after a long period of decline. Now there's hints of another massive leak. Wikileaks is back, God help us all.
Ed Snowden's Great Escape: An Annotated Guide
On Sunday morning, Edward Snowden boarded an Aeroflot flight in Hong Kong, landing in Moscow more…
So, Mea Culpa: I was premature in dismissing Wikileaks' attempts to insert themselves into Snowden's NSA leak despite having nothing to do with it, having underestimated the electromagnetic pull Julian Assange has on nerdy male tech geeks like Edward Snowden. After Snowden approached Wikileaks for help, the group has come to occupy a central role in Snowden's escapades since he left Hong Kong, fleeing a U.S. request for extradition. Assange has successfully leveraged the connections he's made while attempting to avoid his Swedish rape case in Ecuador's London embassy to secure an asylum bid for Snowden in Ecuador. Now that Snowden's U.S. passport has been revoked, his continuing voyage seems to relies on a special document Ecuador has granted him to travel there, according to the Times. Wikileaks has footed the bill for Snowden's travel arrangements since he left Hong Kong, Assange revealed on the phone call. Assange even sent his ex-girlfriend and personal assistant, Sarah Harrison, along with Snowden on his odyssey.
Julian Assange Jumps On The Snowden Leak
If there's one downside to Edward Snowden's NSA leaks it's that they have offered a…
We are witnessing the next phase of Wikileaks' evolution, from whistle-blowing outlet to a full-service travel agency for people who have pissed off the United States. Ecuador is its sweltering Club Med, and Snowden its celebrity client. In its new form, Wikileak's biggest asset remains Assange's gift for publicity—his ability to turn any story into a thrilling tale of Wikileaks-Versus-The-World, even while he's hampered by his government-mandated staycation in London. When asked today during the conference call how exactly Wikileaks hooked up with Snowden, he said, "As a result of the security situation we cannot talk about communications methods."
For his lack of transparency, he offered this dramatic explanation:
"If we lived in a different world, we would be able to go into those details. Unfortunately we live in a world, as revealed by Mr. Snowden, where most people's communications are intercepted by the NSA unlawfully."
Assange would not rule out the possibility that Snowden, who is reportedly travelling with four laptops replete with NSA secrets, might have provided Wikileaks with some of his unpublished material. (The Guardian's Glenn Greenwald told BuzzFeed he doubted this.)
As far as comebacks go, Wikileaks' is about as useful as Anthony Weiner's. The information ecosystem would be healthier without Julian Assange's spectacle sucking up all the oxygen, and the new excitement will probably further obscure the fact that Assange is a creepy fugitive from a sex crimes investigation whose crippled website is still running on the fumes of Bradley Manning's two-year-old document dump.
Julian Assange's Rape Case Has Nothing to Do With Free Speech
The latest Wikileaks farce came to a head this weekend, with Julian Assange thundering from a…
If Snowden actually wants to reveal more leaks he'd be better off going with his old media partners at the Guardian, or perhaps the no-nonsense information brokers of Cryptome. Wikileaks has always been defined by absurd ironies—The fact that an organization so devoted to transparency and free speech itself demonstrates extreme secrecy, and litigiousness, for example—which is probably inevitable for such an ego-driven operation. Its spectacular entrance into the Snowden story introduces a new one: Snowden's supporters cry that the focus should be on the massive NSA surveillance operations he exposed, not his personal story. Assange stressed this a number of times on his phone call today. But by aiding in Snowden's comically dramatic escape—and holding frequent conference calls with journalist to boast about it—Wikileaks has done more than anyone to keep the focus on Snowden. At least it will be something to watch.
A Discussion With Cryptome
When the Guardian and Washington Post published their blockbuster NSA reports based on Ed Snowden's leaks, journalists lined up conga-style to congratulate them on the scoops. Not Cryptome. Instead, the secret-killing site blasted the Guardian and Post for only publishing 4 of the 41 slides that Snowden gave them about PRISM, the NSA's system for spying on the internet.
"Mr. Snowden, please send your 41 PRISM slides and other information to less easily cowed and overly coddled commercial outlets than Washington Post and Guardian," Cryptome wrote in a June 10th dispatch titled "Snowden Censored by Craven Media."
To longtime followers of Cryptome, this response was unsurprising. Before Wikileaks, before Ed Snowden, there was Cryptome. Manhattan-based architects John Young and Deborah Natsios founded Cryptome.org in 1996 as a repository for documents no one else would publish, including lists of CIA assets, in-depth technical schematics of sensitive national security installations, and copyrighted material. As leaking has created a vibrant media ecosystem in recent years, complete with favored outlets, journalists and sources, Cryptome has positioned itself as its curmudgeonly ombudsman, quietly but blisteringly cutting down the hype and blather it sees in its competitors while advocating a form of radical transparency as straightforward as Cryptome.org's bare-bones website.
Recently Gawker sat down with Natsios and Young to discuss their thoughts on the state of leaking, the NSA revelations, and the surveillance state. John Young and Deborah Natsios will join us at 2:30pm for a reader Q + A. Please leave your questions in the comments.
Interview has been condensed and edited for length and clarity.
Gawker: When did you first hear about the NSA leak?
Young: I guess when everybody else did. Did you guys get that through your tips?
Gawker: No, we didn't get anything about it.
Young: Did you go back and look?
Gawker: Yeah. Did you?
Young: Yeah, I didn't find anything.
Gawker: Why do you think Snowden went to established media like the Guardian and the Washington Post as opposed to Wikileaks, or you?
Young: Snowden actually learned from [Bradley] Manning's miserable experience, so he was more careful about it. I think he shopped around. But I think he also got some advice. And I think that he has been pretty strategic in his approach. I don't think they're the only ones he sent this stuff to—he's too smart for that. But you notice, most of them were cautious too. I think each side is pretty cautious.
Gawker: You've been critical about the fact that the Guardian and the Post only released four out of 41 slides or however many. How would have you handled this differently?
Young: Well, we would have dumped it, the whole thing. Everyone else likes to play this game: "What if we harm somebody" or all this kind of crap. Which is strictly cowardice. Of course the companies who run the outlets, their lawyers won't let them do this kind of thing, so if you've got money invested in your operation you won't take these kind of risks.
Natsios: Where's Greenwald on the bar? Do you know where he's licensed to practice?
Gawker: No…
Natsios: Just New York State? Is he actively—what is the status of his licensure?
Gawker: I know his practice is defunct, but I don't know if he's licensed. Why do you ask?
Natsios: Well, because he would have certain professional, perhaps, obstacles to certain kinds of behaviors.
Young: Lawyers won't break the law.
Gawker: So your idea is that he's compromised in some way?
Young: Well he's cautious. It's one thing to be a rhetorician. It's another thing to break the law.
Gawker: But you would break the law?
Young: No, I would publish it. In other words, I don't acknowledge the power of the law. I just publish stuff. If someone wants to make a legal case, have at it. But it's not my job to pretend I know what the law is.
Gawker: Why do you think all 41 should be out? Apparently the Guardian has judged that these are the newsworthy ones.
Young: Well, one to call their bluff. The other is to not let them tease the public with what's coming, which is a well-known journalistic technique, to stretch out the product as though the great stuff is coming. Withholding is a kind of reputation building, to be responsible, respectable, but oh boy, if you knew what we had. This is how spies talk. You can see all of them using that language: If only you knew what we know. You gotta trust us. So it's kind of scammy.
Gawker: Wikileaks did that too, with the Manning leaks.
Natsios: The serialization of content goes way back to tabloids, Charles Dickens, and other content providers in the 19th century.
Young: By the way, I don't have a problem with this, it's just their technique. There are other techniques. There should be many techniques.
Gawker: What's the Cryptome technique?
Young: Publish what we get, on that grounds we don't know what's good and what's bad and do not want to pretend that we do. Because that's just sheer self-promotion.
Gawker: Do you think Snowden is a hero?
Young: Yeah, in so far as you want to play up that word. I think that he's quite courageous to do what he's doing. I'm not convinced that he's operating as an individual but he certainly gives all the appearance of being a hero. So I think until proved otherwise, you can look at it that way.
But I think he's playing a teasing game too, because he's not so dumb as to dump everything in one place. That's suicide because he knows he gets screwed if he does that. The recipients would screw him in their own defense. I think that it's worth seeing what they do next, because usually these things have steps. They're testing the market right now: Will he get public support by releasing more? Under what circumstances? Who will we give it to? Is this guy going to be badly burned?
The military calls this being a rabbit: he's being set up to draw fire and see what happens. And if someone takes a potshot at him, you watch who does. It's risky behavior, but it's a good way to smoke out the opposition.
Gawker: In a post on Cryptome, you suggested the leak was a "wargame". Do you think that this might be an elaborate government test?
Young: Well, it will certainly be used for that purpose. They're certainly watching the response to this. They not only run their own games, they watch other people's games. Some are fortuitous like this. Some are deliberate.
Natsios: I like this notion of the spontaneously combusting war games scenario. It's not top-down driven, it's just erupts and you study it as a phenomenon and information emerges that wouldn't otherwise in the carefully scripted modeling scenario.
Gawker: It seems significant Snowden was an IT guy as opposed to a higher-up, like the other NSA whistleblowers, Thomas Drake or William Binney.
Natsios: I think it's interesting looked at in terms of large technosystem theory, the NSA taken as a large technosystem, this operative being something of a prosthetic extension of hardware. Snowden being understood as a kind of cyborgian creature without any political intuition. There's a kind of shock now in the system, now that this piece of hardware has suddenly, you know, gone rogue. And a person of his status, his age, his youth, there seems to be an incredible bias about their having any political voice.
It's a key threshold for him to have broken out of his little enclosure and committed the act of conscience. Presumably the cyborg has no conscience, they're just kind of artificially intelligenced. And that's why if he's to be a hero in the literary sense, it's based on this act of conscience argument that he's deploying.
Gawker: Snowden told the Guardian that in leaking these documents he wanted to reveal the "architecture of oppression." You're both architects—what does that term mean to you?
Young: People take it metaphorically, but we think he means the actual, physical infrastructure. That's how I took it, he's waiting to tell us how this structure actually operates, not the historical version that goes before Congress and goes to the press. A number of people have written about the technology, [journalist James Bamford] and others have written about this so it's not like it's not out there, but I think he's testing the waters for language.
The word "architecture" is terribly thrown around, like gravitas and everything else and I think it's been taken that way without saying, "No, he's actually talking about the architecture." This building, these cable system, these hubs. These satellites dishes— actual physical structures. Without which you cannot do what they're doing.
Gawker: So you think he has information on what's actually on the ground.
Young: He was managing those systems. That's why he's so valuable.
Natsios: It's interesting in terms of the five or six big, vintage, historic telecom hubs downtown [in Manhattan]. Speaking of Verizon, my favorite Verizon is the tower at 375 Pearl St. that was bought by this Seattle data farm, Intergate. And now Intergate Manhattan, they tout the fact that they are in the NYPD security zone, and that they have protection from homeland security. For your storage. I mean, it's extraordinary. Homeland security will be standing guard over your data, don't you feel so much better about that?
Gawker: I'm also curious if you have any thoughts on the NSA's headquarters—that cube everyone is showing on the news.
Natsios: When the parking lot is full or empty?
Gawker: What do you mean by that?
Young: It is an icon, but most of the work, it's done out in the network. It's widely distributed for security reasons. The headquarters is duplicated in several locations, a standard defense technique. That one is the cartoon version, that's why on the weekend all the cars disappear. Whereas if it were a 24 by 7 operation, they would be there 24 by 7. All these main spy headquarters, on the weekends, they disappear. Empty parking lots.
Gawker: In preparing for this interview, I went back some of your tweets and I've noticed that you delete all your tweets regularly. Why do you do that?
Young: Because it's trash. We don't need to retain that. It's some of the worst stuff I've ever said. Why would I keep that stuff? This notion that you've got to keep your tweets, it's like your garbage, it's like hoarding. Of course it's being archived somewhere else. The Library of Congress or these sites that collect everything, so there's no need to keep this. And most of them are embarrassing. An hour later you would wish you never said that.
Gawker: So you just delete it.
Young: And I encourage others out there: You look like an asshole when you leave it up.
---
This interview was conducted last week. Yesterday at 7:30pm, Young and Nastios were visited by two Secret Service agents. The agents asked Young and Nastios to remove list of George W. Bush's family contacts they had posted to Cryptome. The list was leaked by Guccifer, the notorious hacker who broke into George W. Bush's email and leaked his delightful paintings. (This is not the first time authorities have checked out the pair.)
Young and Nastios emailed this account of the visit:
Two USSS agents appeared at our door about 7:30PM, June 18,
2013 showed ID and badges.

They asked are you John Young of Cryptome holding up a
NY motor vehicle photo.

We said yes that's us.

They showed a Guccifer file listing Bush Family contacts said do
you recognize this.

We said yes.

They said we are here at the request of the Bush Family to ask
you to remove the Guccifer file, posting it is not illegal, "freedom
of information," it contains nothing secret, the family is concerned,
some live in New York City, we are politely asking for its removal.

We asked what would happen if the file was not removed.

They said we don't know, will report your response up the line.

We said we see what you are saying.

They asked if we had met or knew Guccifer.

We said no no.

They said he's pretty active.

We said she or he.

They asked how did you get the file.

We said anonymously.

They asked by email?

We said cant tell.

They said understood.

We asked to see their IDs again.

They said you are not going to publish our names are you
we know you do that.

We said yes we do and will.

They showed their badges while covering their photos and
names.

They said this is not being recorded is it.

We said no lifted our shirt offered to drop our sweats.

They said not necessary this is not an NSA thing.

We said the NSA thing's a hoot.

They said yes yes.

They said thank you for courtesy.

They said call NY Secret Service to vet us then departed.

We got NY SS number online made the call.

NY SS said we cannot answer questions call this number in DC.

We called DC got a number disconnected message with a number to
call and called that number.

DC SS answered White House Operations Center.

We said NY SS told us to call you to vet agent visit.

DC SS said that makes no sense call NY SS again.

We called NY SS again and said what DC SS said.

NY SS went away for several minutes then asked are you
at this NY address.

We said yes.

NY SS said we confirm two SS agents visited you.

End.
Cryptome removed the document, though a link to a copy hosted by a third-party remains prominently displayed on their website.
Julian Assange Jumps On The Snowden Leak
If there's one downside to Edward Snowden's NSA leaks it's that they have offered a new platform for Wikileaks founder Julian Assange's stateless self-aggrandizement. Although Wikileaks had nothing to do with Snowden's leaks, the washed-up whistleblowers are now forcing themselves onto the story like a government probe on a trans-Atlantic fiberoptic cable.
Icelandic businessman and Wikileaks associate Olafur Vignir Sigurvinsson boasted to Bloomberg yesterday that he has chartered a private jet to fly Edward Snowden from Hong Kong to Iceland, where Snowden has hinted he'd like to seek asylum. Sigurvinsson says that, somehow, Wikileaks could try to secure Snowden Icelandic citizenship. Julian Assange claimed in a phone call to journalists that he has been "in touch with Mr. Snowden's legal team" and is "in the process of brokering his asylum in Iceland." How Julian Assange might positively influence Snowden's asylum case in Iceland, when he is himself currently a fugitive avoiding a Swedish sex crimes case, is unclear. Nor is the very public advertisement of Team Wikileaks' rescue mission likely to help much besides Wikileaks' Twitter follower count.
But now that Wikileaks' submission system is in shambles and whistleblowers like Snowden have wisely found other venues, the only thing for Julian Assange to do is hijack other peoples' stories. For example, there was the conspiracy theory-mongering tweet made hours after the death of journalist Michael Hastings saying he had come to Wikileaks' lawyer and told her he was under an FBI investigation. (He wasn't.) It's worth nothing that Olafur Vignir Sigurvinsson, the grandstanding jet-charterer, founded Datacell, the company that processes Wikileaks' donations. People are only going to donate to Wikileaks if it appears to be doing something.
[Image via Getty]
Julian Assange Thinks Someone Will Pay $1 Million To Interview Him
How much would you pay for an interview with Julian Assange, Wikileaks' founder and current undisputed world record-holder for Most Consecutive Days Spent In London's Ecuadorian Embassy? $58 seems fair. But Assange asked filmmaker Alex Gibney for $1 million to be interviewed for his new Wikileaks documentary We Steal Secrets, according to Gibney.
Gibney detailed the ordeal of trying to get Assange on camera in an interview with The Nation
Jon Wiener: Any film about Wikileaks has to make interviewing Julian Assange task number one. You worked hard on that, and finally you met with him to discuss an interview. How did that go?

Alex Gibney: Not so well. I tried over the course of a year and a half to get the interview. He'd already been interviewed by practically everyone on the planet. Finally we had a six hour meeting. He told me that the market rate for an interview was a million dollars. I told him I don't pay for interviews. He said "That's too bad, in that case you might do something else for me." He wanted me to spy on our other interview subjects—which I found a rather odd request from someone concerned about source protection. So I never did get the interview with Julian Assange.
This absurd request can probably be explained by the fact that Wikileaks desperately needs the cash. Donations to Wikileaks have slowed to a trickle, thanks in part to a blockade by U.S.. financial institutions against the organization and also the fact the organization has basically been reduced to a popular Twitter account as Julian Assange languishes in Ecuador's London Embassy in an attempt to avoid rape charges in Sweden.
Since no interviews with Julian Assange look forthcoming until he lowers his price to around $58, you may as well revisit Gawker's interview with Assange in November, for which we paid $0.
Update: Wikileaks' official twitter account points to Wikileaks' extensive annotation of the We Steal Secrets transcript, in which Wikileaks denies that Assange asked Gibney for $1 million for an interview. From the annotation:
Julian Assange did not say the market rate for an interview with him was $1 million dollars and Alex Gibney did not decline. This section deliberately distorts the final, lengthy negotiation between Julian Assange and Alex Gibney regarding his and WikiLeaks' possible participation in the documentary, which at the time was unnamed.
Wikileaks Blows the Lid off the 1970s
The anti-government secrecy site Wikileaks is embracing a peculiar new role: Excitedly publishing already-available declassified government information. The site's embattled honcho, Julian Assange, announced the release this morning of its much-anticipated "Project K," which turned out to be the "Kissinger Cables"—1.7 million diplomatic communiques covering the period from 1973 to 1976.
Historically interesting, to be sure, but hardly of the same moment as Wikileaks' previous hauls from Iraq and Afghanistan. (BREAKING: While planning the overthrow of Allende and the prolonging of war in Vietnam, Henry Kissinger sometimes joked about doing illegal, unconstitutional things!) "The period of the 1970s in diplomacy is referred to as the 'big bang,'" Assange said in Monday's announcement, defending the release.
What's more, the Kissinger cables have already been available to the public for years—reviewed and released by two government agencies, and saved as accessible PDFs in the National Archives, as Wikileaks concedes in its press release. Is the group going soft, depending now on the beneficence of official government declassifiers instead of whistleblowers and leakers?
Wikileaks has merged the Kissinger files with its previous Cablegate dump to provide what it's calling the Public Library of US Diplomacy, or PlusD—a fully searchable database of 34 years' worth of American statecraft secrets (and, obviously, not-so-secrets). That's an unquestionably valuable service—which is why a bevy of institutions like George Washington University's National Security Archive already do something similar.
Assange and Co. could be sitting on a valuable infrastructure, if they can find leakers to fill PlusD out with documentation from the US's other 203 years of diplomacy. Perhaps that's their hope in today's release: If you build it, they will come. That's a fine dictum for attracting Bradley Mannings, but it does little to attract the worldwide news consumers Wikileaks really wants. They subscribe to a different dictum: If you oversell what you've built, they will leave.
Why Did Bradley Manning Do It?
Yesterday, 25-year-old former Army intelligence analyst Bradley Manning admitted he gave all those documents to Wikileaks and attempted to explain why he did it. In the Wikileaks debate Manning is typically cast as either a a heroic whistleblower or a seditious traitor, or as a confused kid acting out in an emotional tantrum. What's remarkable about Manning's own account is how it fits none of those characterizations. We see Bradley Manning the curious analyst become Bradley Manning the world's most famous leaker through a very personal relationship with Wikileaks that is inseparable from his own motives and psychological situation.
Yesterday's hearing at Ft. Meade, Maryland was the first time the world heard at length from Manning, who has been imprisoned for nearly three years. His entire 10,000-word statement, transcribed the journalist Alexa O'Brien, is a fascinating and complex document. It descends into labyrinthine technical detail about his duties as an intelligence analyst in Iraq then soars into high-minded principles of transparency and justice, often in the same paragraph. The rhetorical strategy fits the message: This is not a groveling apology or a rousing call to arms but a careful effort to intellectualize and rationalize Manning's disclosure to Wikileaks of thousands of confidential documents, for which he faces life in prison.
The story begins with Manning's own disillusionment with U.S. foreign policy and its wars, sparked by his wide-ranging research as an analyst. "I began to become depressed with the situation that we found ourselves increasingly mired in year after year," he said. He wanted to give the public access to some of the same information he had seen, so they might come to a similar conclusion. Manning said he leaked a massive database of incident reports from Iraq and Afghanistan because he believed they might "spark a domestic debate on the role of the military and our foreign policy in general as it relates to Iraq and Afghanistan." He hoped people who saw the dramatic video of a 2007 Apache helicopter strike in Iraq he leaked would be outraged by the "delightful bloodlust" of the pilots. The U.S. State Department cables he gave to Wikileaks detailed shady deals and backroom intimidation and were "a prime example of a need for a more open diplomacy."
But Manning's ideas and actions did not develop in a vacuum. In walking us through the genesis of and rationale behind each leak, Manning's statement emphasizes they were not hit-and-run jobs. Wikileaks plays a pivotal role in this story, and not just as a passive leaking "platform." As Manning tells it, his relationship with Wikileaks was not unlike the relationship between a traditional journalist and their source. Manning said he was originally drawn to Wikileaks after their release in 2009 of half a million pager messages from 9/11. In January, 2010, Manning joined a chatroom linked on Wikileaks' official site out of curiosity. He wanted to know how Wikileaks got the pager messages. "I am the type of person who likes to know how things work," he said in his statement. "And, as an analyst, this means I always want to figure out the truth."
Over the years I've periodically visited that same, now-defunct chatroom to try to figure out how Wikileaks works. Whenever I dropped by it seemed pretty dead, a few Wikileaks fanboys idling during the work day. But in early 2010 Manning found a lively collection of geeks discussing stimulating topics:
"Over a period of time I became more involved in these discussions especially when conversations turned to geopolitical events and information technology topics, such as networking and encryption methods. Based on these observations, I would describe the [Wikileaks] organization as almost academic in nature."
This became Manning's social circle. Manning, who is openly gay and possibly transgender, told the court he was having troubles with his roommate in Iraq because of his "discomfort regarding my perceived sexual orientation." But the crowd in the Wikileaks chatroom were the same kind of non-judgmental geeks who hung out at the Boston hacker space Manning had visited in real life in early 2010. The chats "allowed me to feel connected to others even when alone," he said in his statement. "They helped pass the time and keep motivated throughout the deployment."
Throughout his leaking, Manning said he developed an online friendship with an anonymous Wikileaks associate whom he called "Nathaniel," after Nathaniel Frank, the author of a popular book on Don't Ask Don't Tell. Manning presumed Nathaniel was one of the higher-ups in Wikileaks, Julian Assange or one of his lieutenants. The conversations with Nathaniel gave Manning particular solace during his difficult time in Iraq:
Our mutual interest in information technology and politics made our conversations enjoyable. We engaged in conversation often. Sometimes as long as an hour or more. I often looked forward to my conversations with Nathaniel after work.
If intense loneliness brought him closer to Wikileaks, could a desire to impress his new acquaintances have kept him feeding documents to Wikileaks? Manning said he was never pressured to leak to Wikileaks and that he takes "full responsibility" for his actions. But Manning's other chats from the time show an emotional frailness and eagerness to please, which ultimately betrayed him when he confided about his leaking to the hacker Adrian Lamo, who turned him in. At the very least, Manning's chats suggest that any emotional explanation for his leaking stemmed as much from becoming close to this freewheeling community of geeks and hackers as from the isolation and dissatisfaction with the U.S. government and his job.
The question of motives is crucial not just to Mannning's image but to his freedom. Manning has pleaded guilty to 10 of the 22 charges against him, but he pleaded not guilty to the more serious espionage charges, including "aiding the enemy." To nail Manning on this, prosecutors will have to prove he was knowingly, albeit indirectly, communicating to America's enemies through his Wikileaks disclosures. The aiding the enemy charge is frightening, because it's a clear attempt at intimidating potential future whistleblowers who come to the press with evidence of government wrongdoing. As the Harvard law professor Yochai Benckler writes "What kind of country makes communicating with the press for publication to the American public a death-eligible offense?" (Manning's prosecutors aren't seeking the death penalty in his case.)
The unspoken message of Manning's statement is that he wasn't aiding America's enemy: He was helping his friends.
A Conversation With Julian Assange
We've called him a "seed-spilling sex creep," a "pale nerd king," and "a real-life The Matrix extra," so we figured it was about time to talk to Wikileaks founder and megalomaniacal Bond villain Julian Assange. In order to promote his new book, Cypherpunks: Freedom and the Future of the Internet, Assange agreed to a phone interview on the condition that we speak only about the book. I agreed, which was a lie.
Cypherpunks is simply the book-length transcript of a conversation between Assange, Wikileaks activist Jacob Appelbaum, cryptography expert Andy Müller-Maguhn, and French activist Jérémie Zimmermann that took place in March 2012 (with subsequent additions and emendations). The central argument is that a new age of total electronic surveillance is dawning, which is leading us toward a "new transnational dystopia." As data storage becomes cheaper, nations are routinely vacuuming up all communication that transpires over the internet—and increasingly, all communication does transpire over the internet—for retrieval later if need be. Assange and his cohorts call this "strategic surveillance," to be distinguished from "tactical surveillance," which is the traditional let's-get-a-warrant-for-this-guy's-phone sort of spying that we're used to.
Assange, who describes himself as the "visionary behind Wikileaks" in the book's forematter, contends that he and his co-authors are at the vanguard of people who have tangled with this new surveillance regime, despite the fact that his well-publicized run-ins with the United States authorities involve a grand jury (an 846-year-old institution) issuing subpoenas (a common legal instrument) while investigating alleged violations of the Espionage Act of 1917.
Assange talked about the similarities between his own situation and that of former CIA director David Petraeus, why the New York Times and Guardian are "bootlicking" cowards, and his efforts to get a copy of his FBI file before blowing me off after about 15 minutes. He also claimed that Wikileaks, which currently offers no way for whistleblowers to securely and anonymously leak information to it—you can try "the mail," Assange told me—and has been therefore rather moribund, is releasing an average of "several thousand" documents every day.
Below is the full transcript of our conversation.
Julian Assange: Good day, John.
John Cook: Hello, Mr. Assange. Pleased to talk to you.
JA: You too.
JC: How are you doing today?
JA: I'm alright. It's been a pretty busy day as far as the book has been concerned.
JC: I can imagine. Congratulations on the book. Let me start with a question about the distinction you make between strategic and tactical surveillance. I think the grander point of the book is that we're entering an age where there's sort of the capacity for total surveillance of communications conducted through the internet, which you call strategic surveillance. But to the extent that you claim you and your co-authors are sort of representative victims of that process—do you have any evidence that this strategic surveillance, as opposed to the routine tactical surveillance you discuss, has actually been deployed against you?
JA: I mean it's—there's—the issue with strategic surveillance, and that's the new game in town, is that it's cheaper to intercept everyone and store that information and then search it than it is to work out who you want to intercept and start following them around. So the evidence for that comes out of several National Security Agency whistleblowing cases in the United States, and lawsuits surrounding that. Plus, information coming from the contracting industry worldwide, which is building mass surveillance devices, and with those devices it produces pamphlets and prospectuses that it goes to intelligence agencies with. We released, together with Privacy International and the Bureau of Investigative Journalism, several hundred of those earlier this year and they speak extensively about strategic interception and describe it in the way that I've done— intercept the whole country and store the information.
JC: I gather that, but your book presents you and your co-writers as a sort of vanguard of people who are running up against this brave new world. And its seems to me that what has happened to you is that age-old, centuries-old mechanisms have been used against you. There's nothing new about subpoenas, there's nothing new about stopping people at the border and inspecting their belongings—
JA: Personally, yeah, sort of what's been happening to us personally is what happened to Petraeus personally. But that's the reason that it's easy to talk about it, is because there is some quasi-judicial process, or at least an administrative process, so there is a paper trail. For strategic interception, there is no individualized paper trail, the only paper trail that is there is on the sale of this equipment, and the funding to giant data warehouses in Utah, and statements by National Security Agency whistleblowers, and enabling legislation that has been put through in several countries. There is no individualized paper trail, because it is strategic interception—it's everyone. That's the whole idea, is you don't need to get a warrant to go after a specific person because you're after them all.
There is actually a connection that we do have, in relation to strategic interception. Amesys is a French corporation closely associated with French intelligence. But it sells to the world, like most of the corporations do, and it sold a system called 'The Eagle,' which it termed a nationwide interception system, back in 2009. And we got hold of the internal manuals for that system, and in the examples that were sent to Gadhafi, there is a redacted portion. You can unredact the portion because they did the redaction poorly, and there appear several email addresses that they've been intercepting. And that includes one of the lawyers for the Bureau of Investigative Journalists, and our partner in the very project to expose this stuff.
JC: If I wanted to leak classified information to WikiLeaks right now, how would I do it?
JA: Right now we don't have the public gateway, but we have various private gateways. WikiLeaks has been a—
JC: If they're surveilling your lawyer why would I take the risk of submitting anything through email?
JA: I see what you're speaking about. Yeah. No. Of course if you have information that's of interest to the national security state you have to be extremely careful, because they're intercepting all these communications and keeping records on which computers are communicating with what. Which is why we have always had a variety of ways of getting information, from in-person, through the mail, to anonymity mechanisms like Tor and so on.
JC: But that's not quite what the initial promise of WikiLeaks was, right? I mean, the idea was that it would be this mechanism for anonymously submitting documents and data online and then making those available to anyone who was interested in them. It seems that as a going concern WikiLeaks hasn't really existed since the release of the cables. I mean there's not—
JA: No, that's quite untrue, we published nearly a million documents last year. This year, we have probably published around a million as well. We've been averaging several thousand a day.
JC: Several thousand documents a day you've been publishing?
JA: Yeah. And we're set to publish more next year.
JC: Are they on your website? I mean the last thing I see you publishing is the detainee policies in October, they're certainly aren't several thousand of them.
JA: They've been publishing every day, and Spy Files and so on. You can go in and look at those. But anyway, back to the book, what is your question about the book?
JC: Well the book is about the efforts to target Wikileaks, and it just seems that as a going concern there's not much of a threat of restricted data being published by your website, or acquired by your website, since there's no way to submit to it.
JA: That's completely untrue, you can go and see that we publish, on average, several thousand files everyday.
JC: Why did you…
JA: Yesterday we just published information to the European Commission about the Lieberman-King blockade of WikiLeaks by U.S. financials institutions
JC: I don't see that on your front page, but I'll look for it. Why did you…
JA: It's on the left hand column.
JC: Why did you draw out the release of the State Department cables over such a long period of time? In the end, it wasn't even you that actually made the decision to publish the entire body of cables. That happened because a copy had been inadvertently released…
JA: Off-topic question.
JC: The book is about WikiLeaks, is it not? I mean you mention the cables.
JA: No the book is about how all societies are merging with the internet as the internet becomes an integral part of societal infrastructure. And it has connected societies across the world, and now we have a situation where an illness that befalls the internet, befalls all societies. William Binney, the former National Security Agency chief researcher for signals intelligence automation, describes the present state of play as "turn-key totalitarianism"—that we have all the essential ingredients for a totalitarian society that puts the Stasi to shame, and actually this key is starting to turn in the lock. That's why the problem is so urgent, and people must understand it. Addressing it is a more complex issue, but the first step is to understand the threat that we all face.
JC: In the book, you rightly criticize the New York Times and other newspapers for over-redacting the cables that they released in order to protect certain interests. But the cables that you released—the cables that WikiLeaks released on its website—were heavily redacted in many cases. I remember there was a reference to an energy drink that sponsored a lavish party, I believe in Saudi Arabia, that was mentioned in a cable, and you guys redacted the name of that energy drink company. Why, are you criticizing the Times and these other outlets for over-redacting those cables when you did the same thing, and why did you take the steps to redact them so heavily?
JA: Media is a big problem around the world, it's powerful and can abuse its power — the agreement that we had with various media organizations was that they would redact the cables and then send them to us. Now we published those redacted cables that were fed to us by the New York Times—
JC: Why did you submit to that—
JA: The agreement was that they would be redacted for human rights reasons. And they simply abused those agreements, and it's one of the reasons that we refused to continue working with them. There's a great analysis on those redactions on Cable Drum, also we had provided tools where you can very easily look at cablegatesearch.wikileaks.org—to search the differences between what's in the material and what the media redacted. Even Gawker did some good work on showing redactions that the New York Times applied.
JC: Right, but you applied them too. Bradley Manning reportedly said in chats before he was arrested—
JA: It was an automated process. There was an agreement between WikiLeaks and the media. Part of the deal was that they had to do that work. They had the local knowledge to do it. But they simply abused that part of the deal for their own particular political or legal concerns.
JC: You mentioned Petraeus, I'm curious to get your thoughts on what's become of him. There are some curious parallels between what's happened to you and what's happened to him, how personal lives and sexual behavior — and misbehavior — got wrapped up in surveillance and counterespionage. What do you make of that story?
JA: For Petraeus, what is fascinating is that the surveillance state has now become so out of control that it's starting even to eat its own young. Ultimate insiders like Petraeus have always felt protected from it, and that really the surveillance state was something that affected us—civilians and activists. But it is now so secretive, so sprawling that even the head of the CIA can be taken down by it.
JC: Do you think that given what your current situation—you're holed up in an embassy seeking asylum, you can't leave, you've become something of an international anti-celebrity, partially through your own efforts, agreeing to go on The Simpsons and that sort of thing. Do you think that WikiLeaks was best served with you being the face of it? Do you think that maybe things would have turned out a little bit differently for the organization—for its effectiveness as a tool for disseminating information, which it is not right now, or is certainly not at full capacity—if you had taken a lower profile or if you had not been its public face?
JA: I don't think it's a very interesting question. Any organization like WikiLeaks that exposes very powerful players receives backlash, and the attacks against us are across the board, they are economic attacks — the extrajudicial banking blockade, an extraordinary thing, the grand jury and other investigations in the Pentagon, CIA, publicly declared attacks by members of Congress, attacks by right-wing shock jocks, attacks by even jealous journalists, that's not surprising. It happens to all organizations that are involved in some sort of combative process like WikiLeaks that are trying to achieve justice from players much bigger than they are.
JC: So you think the various people who've worked with you and ended up in conflict with you—the Times, the Guardian, your former spokesperson Daniel Domscheit-Berg, Wikileaks activist Birgitta Jonsdottir—those people are all just jealous?
JA: That's off-topic, but we are proud of the many hundreds of relationships that we have had that have been strong. We're a large organization, span many continents and have many agreements and we're also proud that when people break their agreements, as in the case of the New York Times, they are—we don't work with them again. Or in the case of employees who need to be suspended, we've only suspended one person in our history, but of course others may try and reinterpret those events in order to draw attention away from their own behavior.
JC: What does the fact that the way that the cables were eventually released in full—
JA: WikiLeaks is really a litmus test for those people who walk the talk in the media. How much will they really follow their protestations to be brave publishers, and how much do they really want to lick the boots of power? Well, you can tell by their engagement with us and what they do.
JC: So the Times and the Guardian lick the boots of power?
JA: Absolutely. It happens everyday.
JC: The way the cables eventually came to be released in full—
JA: I've got to go now. I would like to speak more, but I've got a bunch of calls lined up.
JC: One last question for you, will you sign a Privacy Act waiver that would allow me to file a FOIA request with the FBI and the State Department seeking records about you?
JA: Well, we've already tried with the FBI and they refuse to release any documents on the basis of an ongoing investigation.
JC: You got a full denial from the FBI?
JA: That's right.
JC: Okay. Thanks for your time.
[Image via AP]
Lady Gaga Visited Julian Assange in the Ecuadorian Embassy
Having recovered from her onstage vomiting in Barcelona, Lady Gaga paid a visit to Julian Assange in his sanctuary at the Ecuadorian Embassy in London tonight. The two met because…well, it's not exactly clear why they met.
As the Atlantic Wire points out, Gaga had a Twitter interaction with M.I.A. that hinted at the meet up, although there are no reports that MIA actually showed.
@ladygaga if ur at harrods today , come visit Assange at the Ecuador embassy across the st. im there.ill bring TEA and CAKE.

— M.I.A(@MIAuniverse) October 7, 2012
There is also a loose connection between Gaga and alleged Wikileaks source Bradley Manning. In a series of chats with a fellow hacker, Manning said:
I would come in with music on a CD-RW labelled with something like 'Lady Gaga' … erase the music … then write a compressed split file. No one suspected a thing … [I] listened and lip-synched to Lady Gaga's Telephone while exfiltrating possibly the largest data spillage in American history.
So, maybe that's what they talked about? It's hard to know. The only thing for certain is that Lady Gaga message boards are a dark, strange place.
[ via The Atlantic Wire//Image via LittleMonsters.com]
Julian Assange Calls on Obama to End 'Witch Hunt' Against WikiLeaks
The American government wants to burn Julian Assange at the stake.
At least, that's the impression the WikiLeaks founder has. After two months in hiding, Assange made an appearance at the Ecuadorean embassy to demand that President Obama to "do the right thing."
I ask President Obama to do the right thing, the United States must renounce its witch hunt against WikiLeaks.
Presumably Assange was referring to the investigation into his sexual misconduct, which he has previously referred to as a "political witch hunt."
Assange has been accused of rape and molestation. The UK Supreme Court ruled that he should be extradited to Sweden to face trial for questioning, which is why Assange is currently seeking political asylum at the Ecuadorean embassy. (CORRECTION: Assange is not currently facing a trial.)
In his brief appearance, Assange also called for the release of Bradley Manning, the U.S. soldier charged with aiding the enemy by leaking confidential files to WikiLeaks.
If Bradley Manning did as he is accused, he is a hero and one of the world's foremost political prisoners.
Manning has been held since May of 2010.
[Image via AP]
Man Seeks Woman for Companionship, Tent at Protest Supporting Accused Rapist
Hey ladies! Any of you out there looking to meet an aware, available guy? You're in luck! This young gentleman is looking to share some pavement space (and maybe a tent) at protest in favor of transparency activist Julian Assange. He'll be at the Ecuadorian embassy all weekend, protesting the British government's attempt to extradite Assange to Sweden on charges of sexual assault — and what better place to meet someone than a rally in support of an accused rapist?
Are you a female Julian Assange supporter? – 18 (Ecuadorian embassy)

Date: 2012-08-17, 1:39AM BST
Reply to: fcfpk-3210618851@pers.craigslist.org

Are you going to be protesting at the Ecuadorian embassy alone?

Well what a coincidence, so am I.

I'm heading there friday evening and staying overnight the whole weekend leading up to Assange's statement on Sunday at 2pm. I don't have any camping equipment so my plan right now is to sleep on the pavement, but if you want to share what you have, I'll be infinitely grateful.

I'm just thinking this would be a great opportunity to get to know a like-minded person of the opposite sex and since I've just moved into London I don't know many people here yet so it'd be nice to meet you this weekend.

Your pic gets mine.
Location: Ecuadorian embassy
Play your cards right and you might go home with some… hickey-leaks! Ahahahahahaha.
[Craigslist, Assange image via AP]
Ecuador Grants Julian Assange Political Asylum
Ecuador will grant Julian Assange political asylum, the country's Foreign Minister, Ricardo Patino, announced this morning.
The WikiLeaks founder has been holed up inside the embassy's redbrick apartment in London's high-class Knightsbridge neighborhood for the past two months.
The UK Foreign and Commonwealth Office responded to the announcement by expressing disappointment in the decision and reiterating its commitment " to a negotiated solution that allows us to carry out our obligations under the Extradition Act."
UK officials previously warned that they could storm the embassy and forcibly remove Assange so he could be extradited to Sweden where he is wanted in connection with the alleged sexual assault of two women.
Assange has expressed fears that his extradition to Sweden could lead to charges related to WikiLeaks' controversial release of myriad confidential documents and diplomatic cables.
WikiLeaks released a statement today calling the British government's threats a "resort to intimidation," noting that Assange "has not been charged with any crime in any country."
Despite the decision to grant Assange asylum, it remains unclear if he will be allowed safe passage out of the UK. In an official statement, Britain's charge d'affaires has already made it clear to Ecuador's government that it will refuse any request for safe passage.
[photo via AP]
Julian Assange to be Granted Asylum In Ecuador
Julian Assange will be granted asylum in steamy Ecuador, reports the Guardian, citing an Ecuadorian official. Assange has been hiding out in the Ecuadorian embassy in London since June 19th, seeking asylum from president Rafael Correa in order to avoid an extradition order to Sweden where he faces a sex crimes investigation.
Ecuador is a weird choice for a transparency crusader, given that Correa has taken unprecedented steps to muzzle free press. But, hey, any port in a sex crimes case. Stay tuned, as we're guessing Assange's attempt to leave Britain will be anything but drama free.
Julian Assange Is Now Seeking Political Asylum In London's Ecuador Embassy
Skeezeball leakmeister Julian Assange has squirreled himself away at the Ecuadorian embassy in London to avoid deportation to Sweden to face sex crimes allegations. According to a tweet by Wikileaks, he's now seeking "political asylum." ENORMOUS SIGH.
Less than a week ago, Britain's Supreme Court struck down the Wikileaks founder's last-ditch effort to appeal his extradition, and he was set to be deported within days after successfully stalling for a year-and-a-half. But, nothing can happen in Julian Assange's world without the absolute maximum amount of drama, so now he's hiding out at the Ecuador Embassy in London, with its all-female staff. (We smell a sit-com.)
Presumably he will now make his case why allegedly "using his body weight" to hold down an unwilling sex partner and having unprotected sex with another woman when she was asleep constitutes grounds for political asylum.
Ecuador's foreign minister says it's "weighing the request," according to the AP. And it might actually happen, as Ecuador offered Assange residency in Novemeber of 2010. Since then, Ecuadorian president Rafael Correa appeared on Assange's talk show; maybe he reiterated the offer?
More details to come.
[Image via Getty]
Julian Assange Loses Extradition Appeal, Will Probably Be Sent on Involuntary Swedish Vacation
Real-life The Matrix extra Julian Assange lost his extradition appeal today, as Britain's highest court ruled that he can be extradited to Sweden to face allegations of rape and sexual assault. For the past year and a half Assange has been under house arrest fighting the European arrest warrant against him because it's "invalid" and also he really, really doesn't want to go to prison.
In the past, Anonymous hackers would now gnash their teeth and take down the website of the Swedish Board of Agriculture or something in protest, but they're so weakened after a spate of arrests, and Assange is such a non-figure these days that probably nothing will happen.
The Wikileaks founder does have one final, slim chance to escape Swedish justice: His lawyers were given two weeks to consider a bid to re-open the case, or to appeal to the European Court of Human Rights. Now is also Assange's final chance to board his escape pod and shoot into orbit. You know he's got one, somewhere.
[Reuters, Image via AP]
Tomorrow Is Julian Assange's Day of Reckoning In Swedish Sex Crimes Case
Wikileaks-founder-turned-talk-show-host Julian Assange has been under house arrest in the UK for the past year-and-half, fighting the CIA-backed radical feminist conspiracy to extradite him to Sweden to face sexual assault accusations by two women there. Tomorrow, we will finally learn his fate.
Two courts have already ruled that Julian Assange, who once embarrassed the most powerful country on Earth with a series of spectacular leaks and currently conducts Skype chats for a Kremlin-backed propaganda television channel, should be extradited to Sweden. He faces allegations that, among other things, he purposely tore a condom during sex with a Swedish Wikileaks supporter in 2010. But Assange's legal team appealed both rulings. Britain's Supreme Court will make the final call on Wednesday, bringing this sad, sticky chapter of Julian Assange's downfall to a close. And possibly opening a whole new sad, sticky chapter. Stay tuned.
Here's the Dubstep-y Trailer for Julian Assange's New Talk Show
In this new trailer, the screech of dubstep summons the lucrative 18-34 year-old male demographic to Wikileaks editor Julian Assange's upcoming talk show, The World of Tomorrow, which premiers on the Kremlin's favorite TV channel, Russia Today next Tuesday. The show will feature a theme song penned by M.I.A., who is basically the Bradley Manning of Super Bowl performers, and interviews with famous people conducted in the "secret" location Assange is currently holed up in fighting extradition to Sweden for rape accusations.
Assange's television career better take off. Judging from the pitiful output of Wikileaks this past few months his publishing days are over.
Rick Santorum's Wikileaks
Catholic scold Rick Santorum thinks Julian Assange is a "terrorist"—and ought to be prosecuted as such—for his role in releasing thousands of pages of classified documents on the internet. He ought to know: In 2006, Sen. Rick Santorum literally forced the U.S. government to dump thousands of pages of classified records concerning Iraq onto the web, including detailed plans for building a nuclear weapon, so that right-wing bloggers could search them for evidence of Saddam Hussein's phantom WMD.
The story of the "Operation Iraqi Freedom Documents" is one of the more maddening and irrational detours that the neocons took on their long march toward catastrophic geostrategic failure. During the course of the invasion of Iraq, U.S. forces confiscated more than 48,000 boxes of Iraqi government documents—intelligence reports, military plans, etc. As the invasion quickly turned sour and no WMD's turned up, panicked war proponents turned to the documents with hopeful eyes—surely there would be some scrap of paper in there somewhere to justify the increasingly disastrous adventure?
Douglas Cox tells the tale in an impeccably researched post at his blog, Docex (that's for "document exploitation"):
The drive towards this unprecedented doc dump arose in earnest in late 2005 and early 2006 when the continuing public debate over the justifications for the 2003 Iraq invasion turned towards the possibility of untapped evidence in the captured documents from Iraq. Could they contain, for instance, "smoking gun" evidence of links between Saddam and al-Qaeda? Stephen F. Hayes at the Weekly Standard, for example, had an impressive series of pieces during this period on his attempts to obtain access to some of the captured Iraqi documents both via the Pentagon press office and via repeated FOIA requests.
Trouble is, the Office of the Director of National Intelligence, which maintained control over the documents, thought it might be more prudent to assess the documents for intelligence before simply dumping them on the public. But the neocons, apparently still drunk on their blogospheric takedown of Dan Rather, came to the belief that the Iraqi documents would be better analyzed by right-wing bloggers than intelligence professionals.
Which is why, on March 14, 2006, Santorum introduced a bill forcing the ODNI to publish the documents online. The mere threat of legislation was enough to spur action, and within two days the whole mess was online in the form of the "Operation Iraqi Freedom Document Portal."
Did it contain evidence of WMD? Sort of. There were no documents definitively linking Hussein to al Qaeda, or demonstrating the existence of an active WMD threat. There was, however, "a basic guide to building an atom bomb," published on the internet, by the United States, at the insistence of Rick Santorum. As the New York Times put it:
The documents, roughly a dozen in number, contain charts, diagrams, equations and lengthy narratives about bomb building that nuclear experts who have viewed them say go beyond what is available elsewhere on the Internet and in other public forums. For instance, the papers give detailed information on how to build nuclear firing circuits and triggering explosives, as well as the radioactive cores of atom bombs.
No less an authority than former Bush chief of staff Andrew Card said at the time that the release was stupid, and that Director of National Intelligence John Negroponte had opposed Santorum's push for release: "John Negroponte warned us that we don't know what's in these documents, so these are being put out at some risk, and that was a warning that he put out right when they first released the documents."
ODNI of course took the documents down, but not before they were grabbed by anyone and everyone who may have been interested in designing a nuclear weapon.
A spokesman for Santorum did not respond to a request for comment.
[Image via Getty
UK Mag Links Julian Assange and Wikileaks To Brutal European Dictator
In a blistering article published on the website of UK magazine The New Statesman, journalist Kapil Komarredi accuses Julian Assange and Wikileaks of playing a role in stunting democracy in Belarus with the help of noted crazy person Israel Shamir.
Shamir, a former Jew who claims he once fought in the IDF before moving to Sweden, has been described by both Tablet Magazine and The Guardian as a Holocaust denier and anti-Semite. Many, many others have echoed this sentiment. He's also been involved with Wikileaks and is a close friend of Assange. In fact, it was Shamir who allegedly revealed the identity of Assange's rape accuser in Sweden.
Shamir has recently been accused of ferreting secret Wikileak documents to President Alexander Lukashenko of Belarus in 2010 without redacting the names of opposition activists, who are typically not treated great. Komareddi provides a description of Lukashenko's ruling style below:
For 17 years, Alexander Lukashenko has ruled Belarus, a former Soviet state, in the fashion of his hero Joseph Stalin: public assembly is banned, the press is censored, the internet is monitored, telephones are tapped, and people's livelihoods — and lives — depend on eschewing politics
This past Wednesday the European Union pulled all diplomats from the country, citing it's poor human rights record, Globalpost reported.
Back in 2010, Lukashenko received these documents, allegedly with permission from Assange, just prior to an election that he would win with an estimated 80% of the vote. Following the election, things got worse. Writes Komireddi:
Belarusians reacted by staging a mass protest. Lukashenko dispatched the state militia. As their truncheons bloodied the squares and streets of the capital, Minsk, Shamir wrote a story in the American left-wing journal Counterpunch extolling Lukashenko ("The president of Belarus … walks freely among his people"), deriding the dictator's opponents ("The pro-western 'Gucci' crowd", Shamir called them), and crediting WikiLeaks with exposing America's "agents" in Belarus ("WikiLeaks has now revealed how… undeclared cash flows from the U.S. coffers to the Belarus 'opposition' ").

The following month, Soviet Belarus, a state-run newspaper, began serializing what it claimed to be extracts from the cables gifted to Lukashenko by WikiLeaks. Among the figures "exposed" as recipients of foreign cash were Andrei Sannikov, a defeated opposition presidential candidate presently serving a five-year prison sentence; Oleg Bebenin, Sannikov's press secretary, who was found dead in suspicious circumstances months before the elections; and Vladimir Neklyayev, the writer and former president of Belarus PEN, who also ran against Lukashenko and is now under house arrest.
Komareddi then accuses Assange of directly providing Shamir with the documents he brought Lukashenko:
His subsequent attempts to distance himself from Shamir were undermined when James Ball, a former WikiLeaks staffer, revealed that not only did Assange authorise Shamir's access to the cables — how else could he have got hold of the documents from this impenetrably secretive organisation consecrated to transparency? — he also stopped others from criticising Shamir even after news of his Belarusian expedition became public.
[article via The New Statesman, pic via shutterstock]
Bill Keller Eagerly Reminds You That He Still Hates Julian Assange
Former New York Times editor Bill Keller has spent the past year pursuing a weird personal crusade against Wikileaks founder Julian Assange. He continues, weirdly, and to the detriment of his own reputation. Likewise, we shall continue our crusade against Bill Keller, until all of the world's readers have abandoned both of us, and we are merely talking to one another, like the cranks that we all are.
Here's the thing, okay: Bill Keller until recently held what is arguably the most powerful editorial position in journalism. In the world. Now he is a New York Times columnist, which is still a pretty powerful platform. If you're going to launch a crusade against something, at least make it something worthwhile. I mean, Nick Kristof bores the shit out of me, but at least he's fighting sex trafficking and genocide in the process. Bill Keller also bores the shit out of me, and all he does is rant grumpily about various people on the internet who annoy him personally.
Not a good use of your platform, Bill Keller.
There's nothing wrong with discussing Wikileaks and its implications, or in pointing out Julian Assange's flaws. But Bill Keller is under the misguided impression that Julian Assange's overarching flaw, importance, and characteristic is that he gets on Bill Keller's nerves. Keller's bit NYT Magazine cover story on Assange last year was not about Wikileaks per se; it was about "Dealing With Julian Assange and His Secrets." That is, it was about why Julian Assange got on Bill Keller's nerves. The story the world was waiting for.
And today, more than a year later: a new Bill Keller column about why Julian Assange gets on his nerves! It's 1,300 words long. Read it all here. Or, just read our Cliff's Notes version: "I still have a weirdly high level of personal animosity against Julian Assange. I am operating on the assumption that my readers care greatly about this fact." Among the zingers:
[Assange] compiled many hours of interviews for an autobiography, then backed out of the project, but his publisher – in the proper anarchist spirit of WikiLeaks – published it over his objections. (Evidently not for profit. It is No. 1,288,313 on the Amazon list of best-selling titles.)
The NYT's own book about Wikileaks—with an introduction by Bill Keller—is No. 2,539,087 on the Amazon list of best-selling titles. Maybe we should all find something new to write about.
[NYT. Photo: Getty
Today Is Simpsons Star Julian Assange's Last Chance to Dodge Sex Crimes Allegations
Kremlin-backed talk show host Julian Assange is back in court in England today, in what will be the final, hopefully failed, attempt to appeal his extradition to Sweden to face rape and molestation allegations. Assange's legal troubles—and the fact that Wikileaks' submission system still isn't fixed after more than a year—haven't kept him from guest-starring in an upcoming episode of The Simpsons. This really validates our decision to stop watching the The Simpsons after Maude Flanders died.
Julian Assange's Transformation Into a Fameball Is Now Complete
Julian Assange, the seed-spilling sex creep who devised an elaborate scheme involving a secret-killing web site and an international espionage investigation in service of his ultimate goal of becoming famous, is launching a television talk show.
The show will consist of a "series of in-depth conversations with key political players, thinkers and revolutionaries from around the world." No word on which network will be picking this gem up, but Assange is planning to shoot 10 half-hour episodes beginning in mid-March and claims to have "initial licensing commitments cover over 600 million viewers across cable, satellite and terrestrial broadcast networks." Which is precisely as true as his claim that "hundreds" of women want to marry him.
[Via the Atlantic Wire; image via Getty
Please Email Us If You Are One of the Hundreds of Women Who Have Tried to Marry Julian Assange
In a new Rolling Stone interview, pale nerd king Julian Assange claims "hundreds" of women have ambushed him and tried to marry him while he's been under house arrest in England. We would love to hear from all of these suitors.
Here's the relevant part of the interview:
There were stalkers at your previous location. That must have frightened you.
Yes, despite the remoteness of the location – being three hours out of London by fast train, plus another 40 minutes in a car through country roads, and then through a long private driveway into the country house. We had many people try to turn up at the front door or to ambush me at the police station. It coincided with many U.S. politicians, such as Sarah Palin and Newt Gingrich, calling for my assassination or kidnapping. Fortunately, nearly everyone who attempted to ambush me was supportive in one way or another. They were mostly women who thought they were my fiancee.

Women wanting to marry you? How many over the past year?

Hundreds.
We have a lot of questions for these hundreds of women. (And some men, apparently.) Was RyanAir offering a special $1 fare to fly to London to propose to Julian Assange? Is there a secret Facebook group, where all the potential wives arranged rideshares or something? How do they feel about the fact Julian's under house arrest for dodging rape and sexual assault accusations by two Swedish women?
If you or someone you know has tracked down Julian Assange with the intention of marrying him, please email me: Adrian@gawker.com.
[via The Atlantic Wire, Image via Getty
Julian Assange Wants to be The Next Mark Zuckerberg
Wikileaks unveiled a mysterious social network today on Twitter, called Friends of Wikileaks. It's the social network for people who think their personal information is too safe in the hands of Mark Zuckerberg.
"Wikileaks mystery 'Facebook killer' project to beta soon wlfriends.org," Wikileaks tweeted.
There's not much information on the site; trying to log in brings up a request for a "registration token" that we don't have. The Who.is information says the site is registered to Julian Assange, so we have to assume this is an official Wikileaks endeavor. All government employes, go register for an account, stat! It will probably end up being some sort of network for Wikileaks supporters, as Assange has in the past urged them to create local "Friends of Wikileaks" chapters.
So, Wikileaks now has a social network, but still no leak submission system. Maybe Assange has finally realized his true calling is tech entrepreneur. Next up: Wikileaks' Groupon clone!
[Image via Getty]
Julian Assange Wins a Round at Court, Sort of
Two British judges have decided that Wikileaking lothario Julian Assange can petition the British Supreme Court to consider his appeal against extradition to Sweden, where authorities want to ask him about two alleged sexual assault incidents. This means he won't have to cancel his holiday plans, which included adapting the contents of diplomatic cables into Christmas carols (probably).
Today's ruling doesn't mean that the Supreme Court will automatically consider Assange's extradition appeal, but that the court might do so. Now his lawyers have two weeks to file the petition. If the court ignores it, then Assange will "have exhausted all legal avenues in Britain," his lawyer told the BBC. And then he will be "screwed," in legal parlance. Last month, Assange lost his appeal against extradition before Britain's High Court, which prompted this latest petition request.
All this courtroom drama seems to have excited Assange's hair follicles, as his hairdo continues to get shaggier.
[BBC. Image via AP
Man, Wikileaks' New Leak Sucks
Julian Assange just unveiled Wikileaks' latest release, and it's embarrassing: A bunch of brochures and manuals they downloaded from public websites, and some stuff that the Wall Street Journal published last month.
Assange had made big promises about the "extraordinary privacy threats" they'd expose with their newest release. Today Assange announced the Spy Files, a database of 287 documents relating to 160 surveillance companies which assist governments around the world.
"Mass interception of entire populations is not only a reality, it is a secret new industry spanning 25 countries," intones the introduction to the Spy Files. "This industry is, in practice, unregulated. Intelligence agencies, military forces and police authorities are able to silently, and on mass, and secretly intercept calls and take over computers without the help or knowledge of the telecommunication providers. "
The Spy Files contains a lot of manuals for surveillance technologies like the Blue Coat SG200 network security appliance, and the Cellebright UFED mobile cell phone forensics device. Which seems impressive until you realize these exact manuals are available for public download on the websites of Blue Coat and Cellebrite themselves.
And the most interesting document, a "contract" between the French surveillance company Amesys and the Libyan government has been kicking around on the web for almost three months. Wikileaks says new documents are forthcoming—maybe they're saving the best for last but judging from past leaks that's probably not the case. As far as we can tell, a large portion of the documents Wikileaks published were already available to anyone on the internet. Wikileaks' newest high-tech leaking tool is Google, apparently.
Of course, the outrageous growth of an unregulated surveillance-industrial complex is a scary issue that deserves plenty of attention… like this huge Wall Street Journal investigation of many of the same documents from last month. And
Wikileaks needs to get their much-delayed new submissions system up so they can stop padding out their leaks like a seventh grader's Pride and Prejudice essay.
[image via AP
Julian Assange Is Too Good For Your Crap Internet
Famous fundraising agency Wikileaks has delayed the launch of their much-anticipated new submission system, which was to be released today, because the entire internet is not good enough for Julian Assange.
Leakers were poised at their keyboards, ready to send Julian Assange all the world's nuclear launch codes today after Wikileaks announced their new super-secure submission system. But the announcement has been delayed indefinitely.
Why? According to a twitlonger message (the preferred communication system of any respectable world figure), Wikileaks has been delayed due to the "deteriorating state of internet security." According to Wikileaks, they system of certification used to secure websites has become "severely and irreversibly compromised over the past months… by various organised crime groups and intelligence agencies."
So on December 1st, Wikileaks says they'll launch a new "phase" of shadowy fun times with a press conference that will expose the flaws in the internet, which they say have kept Wikileaks from implementing their new system. (Fix the internet's security infrastructure all you want, Julian, it still doesn't change the fact that you should never re-use your password.)
In the mean time, you'll have to shoot your links through the window of the English countryside manor Assange is camped out in, scribbled on a paper airplane.
[Image via Getty
Comment of the Day: A Rhyming Couplet for Dear Julian
Today we learned that Julian Assange, everyone's favorite long-haired leaker, was denied appeal against extradition to Sweden. This is very bad news for Julian because it is in Sweden that he faces those sexual assault charges he's been trying to wriggle and writhe his way out of. One commenter eloquently captured his life in a single stanza.
From BZuckercorn:
Government secrets to the world Jules trumpets,
And he abuses those he views as strumpets.
Facing charges anew,
Said "I need a new 'do.
And, ooooh, please pass some more crumpets!
Poetry like this will have to suffice until Baby Shiloh grows up and daringly plays him in the gender bender movie role of a lifetime.
[Image via AP
Julian Assange: Roger Stone Didn't Have Advanced Knowledge Of Leaks – "Stone Is A Bullsh*tter"
During the 2016 presidential campaign, WikiLeaks founder Julian Assange raised doubts about former Trump adviser Roger Stone's claims that he hadadvanced knowledge of upcoming WikiLeaks document releases, according to Twitter group messages reviewed by The Intercept.
In the piece, The Intercept's Micah Lee and Cora Currier write that the group messages "don't reveal anything new about WikiLeaks' relationship with the Trump campaign, although they are consistent with the group's public statements casting doubt on claims by former Trump campaign adviser Roger Stone that he had advanced knowledge of the group's anti-Clinton leaks."
In August of 2016, after Stone claimed "I actually have communicated with Assange," the WikiLeaks founder questioned Stone's credibility. "Stone is a bullshitter," Assange told the private group of WikiLeaks supporters. "Trying to a) imply that he knows anything b) that he contributed to our hard work."
You won't hear this stuff from the lying mainstream media. Keep the GotNews mission alive: send tips to editor@gotnews.com or donate at FreeStartr.com/GotNews.
Stone has a history of taking credit for others' work and making statements of dubious accuracy. Just two months ago, Stone falsely claimed credit for bringing Bill Clinton's accusers to the second presidential debate, a task that was actually arranged by GotNews Editor-in-Chief Charles C. Johnson.
Stone's claims became so ridiculous that Juanita Broaddrick eventually took to Facebook to call Stone out, writing "Stone had no part in my appearing at 2nd debate. I have never met or talked to Stone."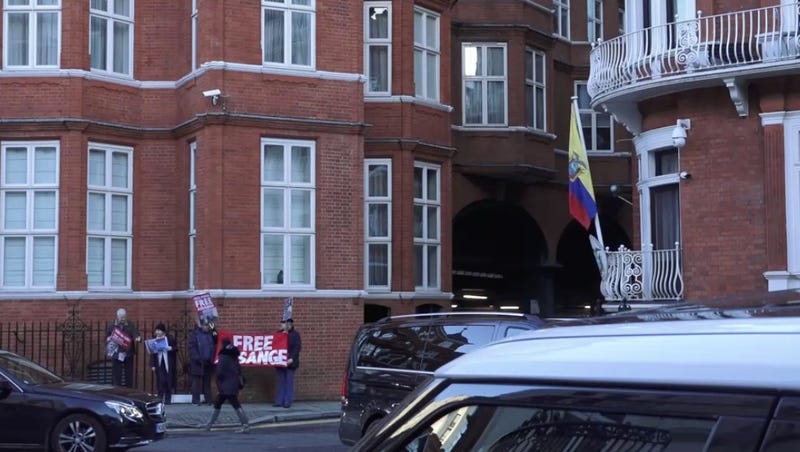 Julian Assange, the WikiLeaks founder who's been hiding in the Ecuadorian embassy in London for the past six years, had his internet cut off today. And his supporters are so worried about his inability to communicate with the outside world that they've started to assemble outside the embassy.
Ecuador issued a statement confirming that the embassy had cut off Assange's internet, saying that he had failed to comply with a commitment not to interfere with Ecuador's relationship with other countries.
It's not immediately clear what "interference" Assange may have engaged in, though he has used Twitter for things such as advocating for Catalan independence in Spain and DM-ing with family members of the Trump regime. The former got Assange into trouble with Ecuador in the past, though the only other time his internet was cut off was during October of 2016 in the lead up to the US presidential election.
Assange has been in the Ecuadorian embassy in London after he skipped bail in June of 2012. Last month, a British court ruled that the warrant for his arrest was still valid, despite the fact that Sweden had suspended its investigation into sexual assault charges against the WikiLeaks founder. Assange fears extradition to the United States.
It's unclear how long Assange will have his internet cut off, though reports that his access to visitors has also been cut off have yet to be verified by any credible new outlet.
The machine translated version of Ecuador's statement is below:
The Government of Ecuador suspended the systems that allow Julian Assange to communicate with the outside world from the Ecuadorian embassy in London, where the citizen remains in an international protection situation for six years due to the risk to his life and integrity.

The measure was adopted in the face of Assange's failure to comply with the written commitment it assumed with the Government at the end of 2017, for which it was obliged not to issue messages that implied interference with other States.

The Government of Ecuador warns that the behavior of Assange, with its messages through social networks, puts at risk the good relations that the country maintains with the United Kingdom, with the rest of the States of the European Union and other nations. Therefore, to prevent potential damage, the embassy in London interrupted this March 27 communications abroad to which Assange has access.

The Executive also keeps open the way to the adoption of new measures in the face of breach of commitment by Assange.
The president of Ecuador, Lenin Moreno, has previously called Assange's presence a "nuisance" and an "inherited problem." But so far there hasn't been public talk of kicking him out. If Assange continues to create headaches, that discussion might change.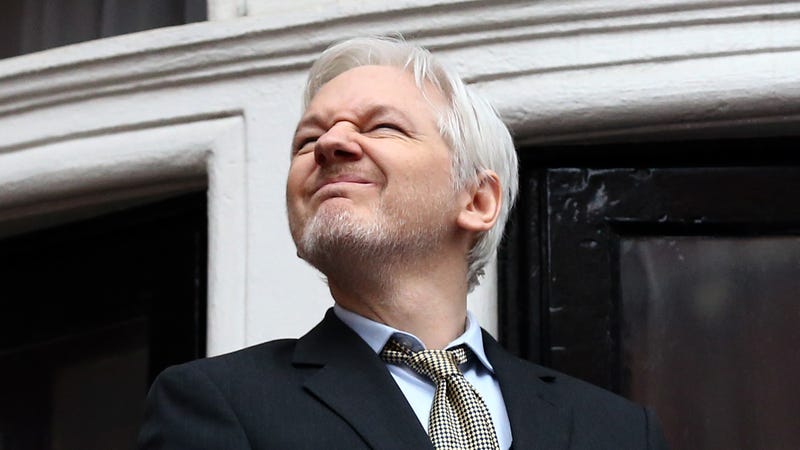 Julian Assange, the founder of WikiLeaks and a noted internet edgelord, will be allowed to continue to live in the Ecuadorian embassy in London as he has for the past six years—provided he stops shitposting about politics on Twitter.
Per the Guardian, Ecuador's President Lenín Moreno said this week that Assange's ongoing asylum status is not under threat as long as Assange complies with conditions laid out by the Ecuadorian government, including a restriction on talking about the political happenings taking place in other countries. The government is ready to "take a decision" if Assanage fails to follow the rules.
"Let's not forget the conditions of his asylum prevent him from speaking about politics or intervening in the politics of other countries," Moreno told Deutsche Welle in an interview Wednesday.
Ecuador already took steps to cut off Assange's line of communication with the outside world once this year, flipping the switch on his internet connection after claiming that the controversial figure was interfering with Ecuador's relationship with other countries by tweeting about political events. Assange also had his internet privileges revoked in the lead up to the 2016 US presidential election and irked the Ecuadorian government earlier this year by openly advocating for Catalan independence in Spain.
Ecuador's current president has not been particularly thrilled with Assange's ongoing presence in the country's London embassy. Earlier this year, Moreno called Assange "more than a nuisance" and said he was an "inherited problem" from the previous administration.
Ecuador's new administration has been working to get Assange out of the embassy. Earlier this year, the government granted him citizenship in hopes that he would receive diplomatic immunity and could exit the building without getting arrested by British authorities for the two sexual assault-related charges he faced in Sweden (which have since been dropped due to a technicality). That plan, which Moreno credited to his foreign minister María Fernanda Espinosa, failed and Assange is still firmly planted within the walls of the embassy.
According to the Guardian, Ecuador has invested a considerable amount of resources into protecting Assange. Over the last five years, the country's government has spent more than $5 million protecting him. The initiative included paying an international security company and undercover agents to monitor Assange's visitors, as well as keep tabs on staffers within the embassy and British law enforcement.
Moreno seems to realize that all that money may be more than Assange is worth at this point. He's always been a controversial figure, but he was once lauded as a person seeking truth through radical transparency. In recent years, Assange has aligned himself with fringe groups and figures including UK Independence Party leader and noted xenophobe Nigel Farage, members the Donald Trump campaign, representatives of European nationalist groups, and individuals linked to the Kremlin.
Ecuador's president insists that his country isn't giving in to any pressure from the United States or other countries that may have interest in silencing Assange. Instead, he told Deutsche Welle that Assange has simply "surpassed the limits of freedom of expression."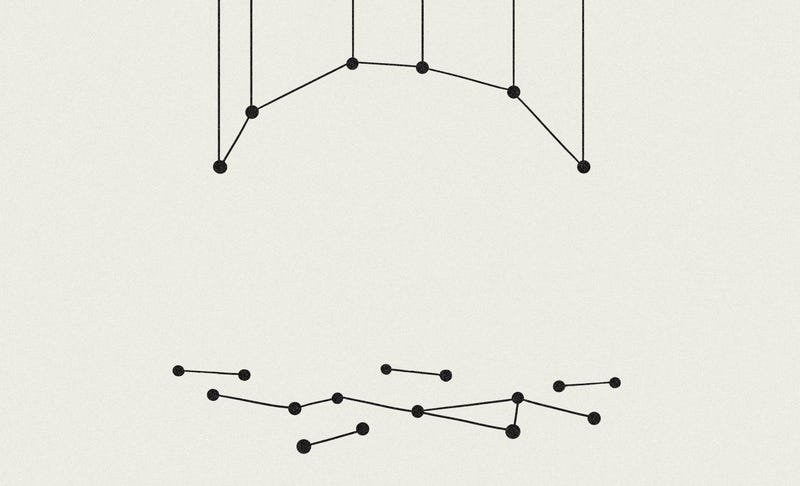 Sitting with a friend in a bar in mid-March, a former Cambridge Analytica employee said he was having a beer when someone texted him Facebook's announcement that it was kicking the data firm off its platform "pending further information." "I just remember thinking, 'Oh my God,'" he told Gizmodo. "This is going to be insane."
"I was like, 'Man, what am I going to do?'" the former employee continued. "I won't say the writing was on the wall, I didn't necessarily think that was going to be the death of us."
The social network's abrupt announcement came just a day before explosive reports from The New York Times and The Guardian revealed that Cambridge Analytica had harvested data from millions of Facebook users without their consent. The firm was accused of misusing that data to help the Trump campaign target voters, but it denied any wrongdoing, alleging that it deleted the Facebook data once it learned it was obtained illegitimately.
Last week, both Cambridge Analytica and its parent company SCL Group shut down their offices. Cambridge Analytica announced in a press release that it, along with SCL Elections and other affiliate companies, had filed for insolvency in the U.K. with bankruptcy proceedings in the U.S. soon to follow. Gizmodo spoke with two former Cambridge Analytica employees as well as a source with direct knowledge of the company's final days, all of whom requested anonymity to speak freely about internal company matters.
According to one former employee, Cambridge Analytica's leaders informed the company that negative news was imminent before the Guardian and Times stories broke, but few could have predicted how quickly it would lead to the firm's complete collapse. Cambridge Analytica had already faced damaging coverage—like when Julian Assange confirmed last fall that the data firm had reached out to WikiLeaks—so some may have anticipated that the Facebook news would be just another bump in the road.
Just a few days after those initial reports, however, the U.K.'s Channel 4 released a damning video showing Cambridge Analytica's then-CEO Alexander Nix proposing tactics to a potential client that included entrapment and blackmail. Even then, one former employee believed that while the video of Nix would be "extremely harmful," it was nothing that a change of leadership couldn't remedy, saying now, "No one had any idea that it would spiral out of control."
Until the very end, Cambridge Analytica's workers believed that the company was a collection of good, talented people simply entangled in a web of bad press, mismanagement, and guilt by political association. While speaking to Gizmodo, former employees disputed that Cambridge Analytica directly used Facebook data in its work on the 2016 election, seemingly viewing this relatively minor point of contention as the crux of the entire scandal—and framing the company's downfall not as a reckoning for past sins, but the result of being unable to get its message across.
While there were clear signs that this time was different—with Cambridge Analytica's leadership postponing major decisions and scheduling multiple board meetings—employees believed the company was financially sound enough to continue into the immediate future. "I knew that we weren't long for this world," said one former employee, "but I didn't think it would happen as fast as it did."
Then, late last month, employees braced for the worst as a company-wide "town hall" was scheduled for April 30, and then rescheduled for May 1, before getting pushed back on May 2 every half-hour from 10am to 12:30pm. Ultimately, the meeting was rescheduled more than half a dozen times. While waiting for it to begin, employees adopted a gallows humor in the company Slack. One shared a screenshot from the movie Titanic in the internal chat service and another posted Spotify playlists titled "Hammer to Fall" and "End of Days" featuring songs like "The End" by The Doors, "Help!" by The Beatles, and (perhaps tellingly) "It Wasn't Me" by Shaggy.
In the end, the announcement was even graver than might be anticipated. Julian Wheatland, chair of parent company SCL Group, explained that Cambridge Analytica and its affiliate companies were shutting down. A brief moment of levity came when someone calling into the meeting played a snippet of a cheerful song that starkly contrasted with the grim tone of the call. Less than two months after Facebook's announcement landed, all of Cambridge Analytica's employees were packing up their desks and turning over their laptops and keycards.
SCL Group did not immediately respond to our request for comment. Cambridge Analytica was not available for comment.
In the immediate aftermath of the data firm's collapse, many speculated that the company would be resurrected under the names of two other companies: Emerdata and Firecrest Technologies, Limited. Emerdata was set up last August—six months before the Facebook scandal errupted—and has a number of Cambridge Analytica executives attached to it, including conservative heiresses Rebekah and Jennifer Mercer, former Chief Data Officer Alexander Tayler, and SCL Group's Wheatland. Firecrest Technologies, an Emerdata subsidiary, was incorporated in March of this year, with Tayler brought on as a director.
Earlier this week, however, SCL Group founder Nigel Oakes pushed back against speculation that Emerdata and Firecrest would be revived as a Cambridge Analytica 2.0, saying both were winding down. "It's the end of the show," Oakes told Bloomberg on Tuesday. "The whole lot is gone. There's no secret. For anything like this to recreate itself, you need a team of people to work together but nobody is working together. Everybody has gone off to do their own things." 
Former Cambridge Analytica employees echoed this sentiment, believing Emerdata to be nothing more than a holding company created in a restructuring attempt, and that without a number of key players, it would be doomed to fail. 
"We were the ones that did all the work," one said. "Leadership just picking up and going to a new entity, it wouldn't matter. They can't do the work." Another former employee noted that Wheatland was on the business side, meaning he likely didn't hold any intellectual property. And while Tayler certainly did, the former employee said he was "very dependent on his staff."
"He doesn't necessarily have the global ambitions that Alexander Nix and some people had," said the source. "I am sure he is going to do something else along these lines but not recreate exactly what was done."
Proud of the work they did for Cambridge Analytica, former employees offered different explanations for what ultimately killed the company, but none seemed to believe that their work was an abuse of the public trust—at least not any more invasive than existing companies brokering data. One cited Facebook's rush to name the firm as deeply damaging, saying that the social network knew the news was coming "and wanted to protect their interest." Another specifically blamed Nix's personal arrogance.
The Best Cosplay of 2018's San Diego Comic-Con: Day 1
Thursday 10:39pm
"The more that it sinks in, the more angry I am at the recklessness of Nix and his method of selling and sell-at-all-costs and overhype," said a former employee. "That really did us in. I mean really that did us in more than Trump." The source claimed that when Nix was pitching to clients, he kept the fact that Cambridge Analytica used Facebook data to develop personality models in his presentation, even though the company had long stopped using that data, "because he liked how it sold."
Even if Cambridge Analytica is truly dead, there are still plenty of reasons to be kept up at night. The former employees who spoke to Gizmodo seemed to believe that the firm wasn't a rogue actor, but rather a somewhat typical member of their industry caught in a media firestorm. While certainly a self-serving assessment, incidents like last year's Equifax breach demonstrate how much of our data is out there—and how easily it can fall into unintended hands. When another shadowy data broker is revealed to have violated the public's trust, workers at that company will likely be wondering why everyone's picking on them.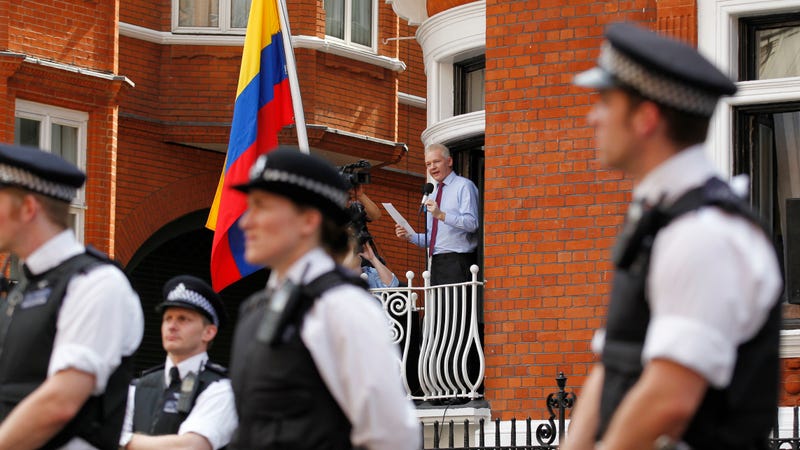 Wikileaks, the whistle-blowing organization which is now almost solely run by founder and fugitive Julian Assange from a small room in the Ecuadorian embassy in London where he is claiming asylum from the police, claims that one of its official stores has been taken down by cryptocurrency exchange Coinbase.
The Coinbase store sold Wikileaks-branded merchandise including shirts, mugs, posters, and the other kind of generic stuff that remains available on a separate Wikileaks shop page. It also accepted a variety of cryptocurrencies.
According to a message posted by the official Wikileaks Shop Twitter account, Coinbase has closed it as part of an effort to "implement regulatory compliance mechanisms" required by the US Treasury's Financial Crimes Enforcement Network after a review concluded the shop "engaged in prohibited use in violation of our Terms of Service."
It's not immediately clear what, exactly, prompted the cutoff, though the financial crimes network noted in Coinbase's statement has a mission of preventing money laundering. So that doesn't sound good! Coinbase told the Verge it has a policy to not "comment on individual accounts."
Wikileaks has begun calling for a boycott of Coinbase on Twitter, though with over 10 million reported users on the exchange, it is unclear whether that will have any noticeable impact.
As the Verge noted, at the start of the decade, Wikileaks was fighting a similar battle with payment processing companies who decided to blockade the site after it published a series of US diplomatic cables in November 2010. That battle included some of the biggest names in finance including Visa, Mastercard, Paypal, the Bank of America, and Western Union, though court rulings eventually forced companies involved to resume processing donations. At the time, Wikileaks and Assange began exhorting users to finance continued operations via cryptocurrency, which allegedly could not be stopped—and indeed anyone can still donate cryptocurrency to the site, just so long as they don't do it through Coinbase.
Andreas M. Antonopoulos Retweeted WikiLeaks Shop
We have come full circle. Many people's interest in bitcoin started when Wikileaks was out under an extra judicial embargo by VISA, MC, PayPal and banks. Now Coinbase has repeated history. Oops.
Andreas M. Antonopoulos added,
While the impact on Wikileaks may be virtually nil for now, if more exchanges bail on the site, it may have difficulty transitioning what Assange alleges are its extensive holdings in cryptocurrency back to fiat currency he could use to pay for things—though with Assange's presence in the Ecuadorian embassy now going on six years and counting, and his internet reportedly cut off at times, it's not clear whether he really has that much going on right now anyhow.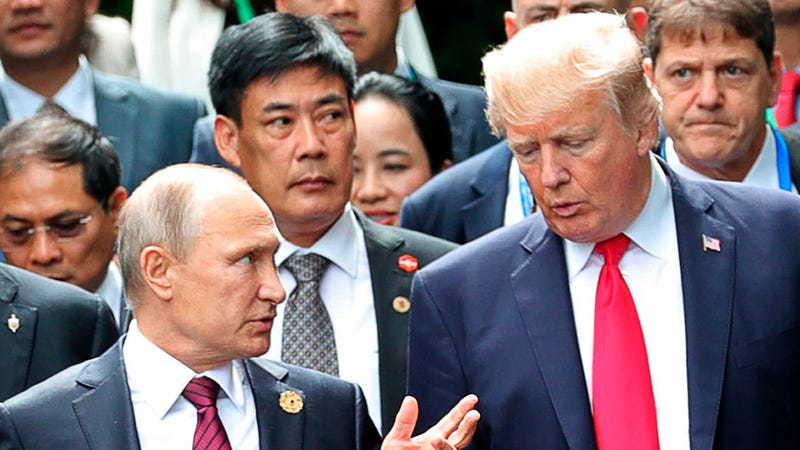 The Democratic National Committee (DNC) filed a lawsuit in federal court on Friday alleging the Trump campaign conspired with WikiLeaks and the Russian government to sow chaos during the 2016 election and advantage Trump in the race for the White House.
DNC Chair Tom Perez, in a statement published by The Washington Post, called the Russian meddling an "all-out assault on democracy" and accused the Trump campaign of being a willing and active participant in the plan to harm ex-Secretary of State Hillary Clinton's odds at victory.
"This constituted an act of unprecedented treachery: the campaign of a nominee for President of the United States in league with a hostile foreign power to bolster its own chance to win the presidency," Perez said.
According to the Post, the suit does not specifically name President Trump; rather, it identifies several Trump aides, including his son, Donald Trump Jr., who are known to have had repeated contacts with Russian officials. Additionally, WikiLeaks, Julian Assange, the Russian Federation, and attribution-front "Guccifer 2.0" are named, among others.
Trump has repeatedly denied allegation that his campaign conspired with Russia to sway the outcome of the election, calling the investigation led by Special Counsel Robert Mueller a "political witch hunt." The Russian government also denies ever colluding with the president. WikiLeaks, which could not be reached for comment, has denied that the hacked DNC emails it received during the election came from Moscow.
The alleged hacker who took credit for supplying WikiLeaks with those emails, who also denies being Russian, allegedly revealed himself mistakenly as a Russian intelligence officer, leaking his IP address at one point, according to a report in The Daily Beast last month.
In March, a federal grand jury indicted 13 Russian nationals and three Russian firms for allegedly meddling in the US election, in case brought by Mueller.
The US intelligence community unanimously agrees that Russia waged the cyberattacks against the Democrats in 2016 and that the purpose of doing so was to harm Clinton's chances. "Russia's goals were to undermine public faith in the democratic process, denigrate Secretary Clinton, and harm her electability and potential presidency," a declassified intelligence community report said in January 2016.
"We further assess Putin and the Russian Government developed a clear preference for President-elect Trump."
Any conspiracy between the Trump campaign and the Kremlin, however, remains somewhat murky as the Mueller investigation enters its second year. A number of Trump aides, such as former foreign policy adviser George Papadopoulos, had direct contact with Russian officials and have mislead federal investigators about those interactions.
The Bloop Heard Beneath The Sea | Sound Mysteries
Thursday 8:00am
Former Trump campaign chairman Paul Manafort and his associate Rick Gates are among those also named in the Democrat's suit. Mueller has filed a 32-count indictment against Manafort and Gates accusing the pair of a wide range of financial crimes. Gates, who was accused of filing false income tax returns, among other crimes, pleaded guilty in February. Manafort, meanwhile, has pleaded not guilty.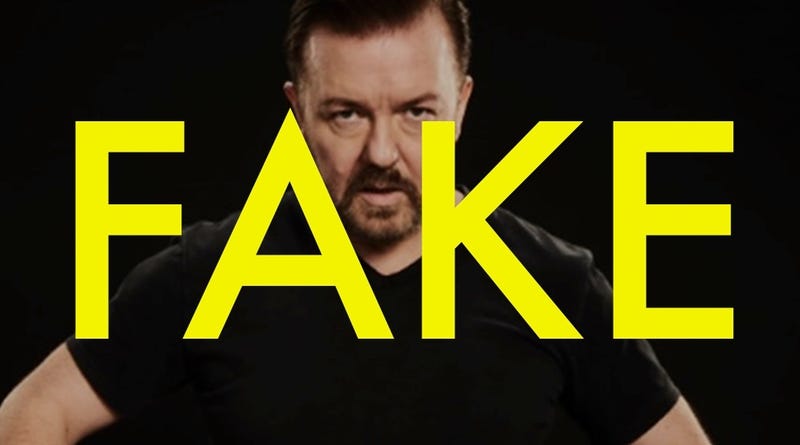 Julian Assange likes to boast that WikiLeaks has a "perfect record" of "accurate vetting." But if Assange's Twitter account is any indication, Assange can't even spot a ridiculous parody of "edginess" when he sees it.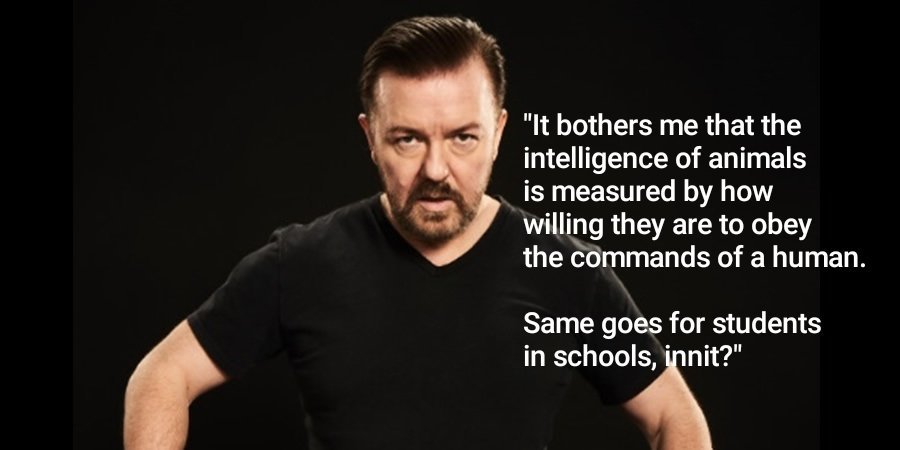 Rob Rousseau, a freelance writer from Montreal, created some fake Ricky Gervais quotes and posted them to Twitter earlier today. They're the kind of thing that a dull middle school student might find thought-provoking. Well, a dull middle school student and Julian Assange.
The WikiLeaks founder saw one of the fake Gervais quotes and posted it to his own Twitter account, apparently in earnest.
"It bothers me that the intelligence of animals is measured by how willing they are to obey the commands of a human," the fake quote says. "Same goes for students in schools, innit?"
In reality, the graphic was made by Rousseau to show just how tired and unoriginal the entire Ricky Gervais schtick is. This "deep thought" was literally just scraped from Reddit. Gizmodo reached out to Rousseau to ask him about what it feels like to have your own ridiculous parody of Gervais repurposed as some kind of profound truth.
"Like everyone, I find his 'Do I offend you, yeah?' persona to be incredibly irritating, so I thought it would be funny to make some fake standup shots using obnoxious, banal posts I found on some of the more edgelord subbreddits (/r/atheism, /r/Im14andthisisdeep mainly)," Rousseau told Gizmodo by email.
"I have no idea how it made its way to Assange, but he apparently finds Gervais' comedy indistinguishable from edgy Tumblr content written by teenagers, which is amazing," said Rousseau.
Rousseau made others, including one about how it makes more sense to idolize The Joker than it does to idolize Batman.
God DAMN this new Ricky Gervais special is some incendiary stuff https://t.co/uXDM3GGHp5—
Rob Rousseau (@robrousseau) March 18, 2018
Again, Assange loves to brag about just how perfect he is when it comes to vetting the material he releases. But when you can't spot an obvious parody, you might not be equipped with the best bullshit detector. Being able to sniff out bullshit is kind of important when you're helping to swing elections and sow chaos at the highest levels of government.
Take a Walk Through 2018's San Diego Comic-Con
Thursday 8:25am
Gizmodo has reached out to Assange on the off chance that he's actually in on the joke. Is it possible that Assange understands that Rousseau is making fun of this "edgy" thinking? For what it's worth, Rousseau doesn't think Assange understands that the image is meant to make fun of Gervais and this immature way of understanding the world.
"There's no way Assange is tweeting it ironically," said Rousseau. "Look at the comments, his followers are like 'Wow, so true' etc."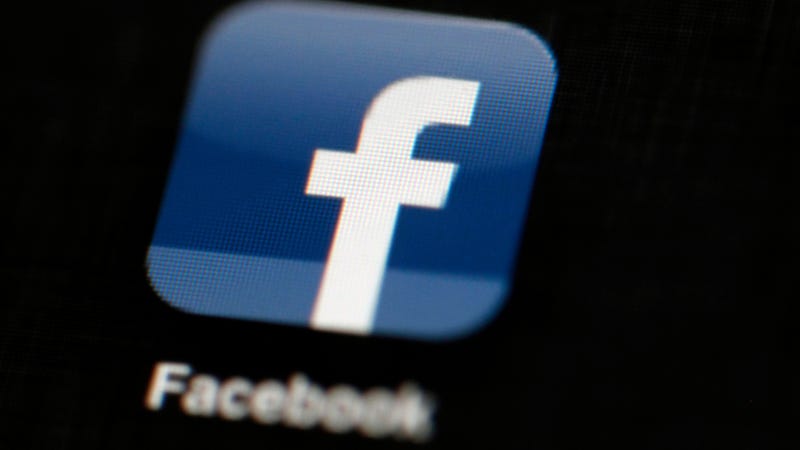 Facebook has booted Cambridge Analytica, a data firm once hired by President Donald Trump's 2016 campaign, and its UK-based parent company SCL Group after it allegedly received user data improperly downloaded and shared by a University of Cambridge professor.
Per the New York Times, Cambridge Analytica was formed years ago as an effective "shell" for SCL to work on US elections following a $15 million donation by wealthy GOP donor Robert Mercer. On its board sat Steve Bannon, the former Breitbart chief and far-right ringleader who later oversaw Trump's campaign and briefly served as the president's chief strategist. Cambridge Analytica secured contracts for US elections that were served by the UK-based SCL, despite the possibility that its use of data scientists with foreign citizenship was a violation of campaign finance laws. (It also is being investigated for its possible involvement in the UK's Brexit referendum.)
Mercer wanted results, per the Times' report, and SCL's election division hired Cambridge University's Dr. Aleksandr Kogan to provide psychometric data that could be used for targeted advertising. Kogan created an app, "thisisyourdigitallife," that was legitimately downloaded some 270,000 times, but the paper wrote Kogan actually managed to provide the "raw profiles" of approximately 50 million users whose data was supposed to be used only for the purposes of improving the app's user experience. The Times added that "roughly 30 million contained enough information, including places of residence, that the company could match users to other records and build psychographic profiles."
(Though Kogan is a Cambridge professor, the university is not affiliated with the analytics company nor was he allegedly acting on its behalf when designing the app.)
Though it's unclear how that data was used in the 2016 elections, Vox notedthat Trump's digital operation was "shockingly effective," running thousands of variants of online ads to help "determine which messages were resonating where and then shape Trump's travel schedule around it."
"We've rolled out a long-form quantitative instrument to probe the underlying traits that inform personality," Cambridge Analytica CEO Alexander Nix said in a 2016 speech. "If you know the personality of the people you're targeting, you can nuance your messaging to resonate more effectively with those key groups."
However, it's not clear that Facebook did all it could to verify the data was not still floating around out there earlier. Former Cambridge Analytica data scientist Christopher Wylie told the Observer that Facebook never aggressively followed up to ensure the data was actually deleted, and only required them to "tick a box on a form and post it back."
According to CNN, a Cambridge Analytica spokesperson said that it contracted with Kogan for a project in 2014 but that it had deleted the data when it became clear it was improperly obtained. The spokesperson added, "No data from [Kogan's firm Global Science Research] was used by Cambridge Analytica as part of the services it provided to the Donald Trump 2016 presidential campaign."
But something shady seems to be going on. The Times reported that "a former employee said that he had recently seen hundreds of gigabytes on Cambridge servers, and that the files were not encrypted."
As the Wall Street Journal noted last year, Cambridge Analytica's role in Trump's campaign drew the scrutiny of special counsel Robert Mueller, the Department of Justice investigator looking into the alleged Russian plot to meddle in the 2016 elections. As the Washington Post added, disgraced former national security adviser Michael Flynn also disclosed an "advisory role" at the company, which Cambridge Analytica denies was ever actually implemented. Nix, the CEO, also disclosed last year that he had reached out to Wikileaks founder Julian Assange in an attempt to secure leaked Hillary Clinton campaign emails allegedly stolen by Russian hackers, though he said he was rebuffed.
Update 3/18/2018 at 7:05pm ET: It looks like the fallout from this situation is beginning to settle over Facebook, which is facing renewed inquiries about why it did not act faster to certify whether the data was destroyed. Per CNN, Facebook also admitted that it is looking into "ties" between current Facebook researcher Joseph Chancellor and Kogan's firm, GSR, which was dissolved in 2017. It's unclear at this point what role, if any, Chancellor had in improperly obtaining the data on tens of millions of Facebook users, though Chancellor was reportedly listed on paperwork as one of GSR's directors.
Some former federal officials have also begun talking about whether Facebook's lack of control over the data constituted a violation of a 2011 Federal Trade Commission consent decree with Facebook that its users must explicitly give consent before their data is shared, per the Washington Post. The paper reported that damages could in theory go up to $40,000 per violation, which if applied to all 50 million individuals allegedly impacted would mean Facebook's "possible exposure runs into the trillions of dollars." (In practice, this is unrealistic, but any penalty assessed could still be very large.) The incident may also indicate that such violations of the FTC rulings were commonly ignored as part of Facebook's business model, which could backfire big time for the social media giant.
Meet the McVengers
Yesterday 1:50pm
Finally, Facebook is coming under additional fire for its decision to suspend data analyst Christopher Wylie's account. Wylie worked for Cambridge Analytica during the period that the data was allegedly obtained, but has characterized his involvement in the ongoing revelations about the company's conduct as whistle-blowing.
Yet the intrigue doesn't end there. Per the Financial Times, Cambridge Analytica's damage control efforts have included attempts to halt a Channel 4 interview between Nix and undercover reporters in which the CEO "talks unguardedly about its practices."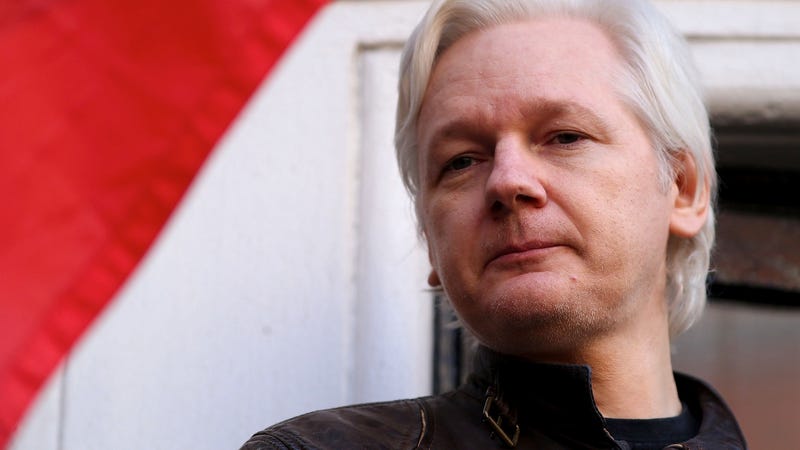 A British court has just ruled that the arrest warrant for Julian Assange, first issued when he skipped bail in June of 2012, is still valid. Assange will be arrested if he steps foot outside of the Ecuadorian embassy in London where he's claimed asylum ever since. Assange's lawyers will continue to argue other technical points about the case throughout the afternoon.
Lawyers for Assange had argued that since Sweden is no longer actively pursuing Assange, the warrant had "lost its purpose" and had "no status." But prosecutors in the UK were concerned about the precedent that it might set if someone skips bails and is let go simply because they hid long enough.
Judge Emma Arbuthnot of Westminster Magistrates' Court ruled Tuesday morning (early afternoon, London time) that the warrant will stand and Assange will be arrested if he leaves the Ecuadorian embassy.
"I'm not persuaded that the warrant should be withdrawn," Arbuthnot said, calling the situation "not uncommon."
Assange himself first announced the ruling on Twitter.
Assange fled to the embassy after being accused of sexual assault by two women in Sweden. The WikiLeaks founder feared being extradited to Sweden because he was certain that he'd eventually be sent to the United States to stand trial over his publication of US military files leaked by whistleblower Chelsea Manning in 2010. The charges in Sweden were dropped on a technicality in May, but prosecutors there say they'd still like to talk with Assange if he ever leaves.
Officials in Ecuador have spent years trying to figure out how to get rid of Assange, with Ecuador's president Lenin Moreno recently calling the silver-haired shit-stirrer an "inherited problem" and "more than a nuisance." Moreno's right wing opponent in last year's presidential election promised to kick Assange out within 30 days if he were elected.
Ecuador even granted Assange citizenship in a failed bid to get him diplomatic immunity and out of the embassy without arrest. But the UK isn't recognizing Assange as being a diplomat for anywhere.
"Unfortunately, things did not turn out as the foreign ministry planned and so the problem still exists," President Moreno said last month.
Assange's defenders call him a freedom fighter who's being persecuted for telling the truth. But American intelligence agencies insist Assange is acting as the agent of a foreign government, specifically Russia. And the average American isn't quite sure who to believe at this point.
Many people who initially thought that Assange was acting merely as a truth-telling journalist back in 2010 and 2011 may have changed their minds about Assange, wondering why he's palling around with authoritarian regimes. Assange has reportedly turned down massive amounts of leaked data from the Russian Foreign Ministry and has no clear ideology.
WikiLeaks has also been incredibly sloppy with some of its releases in the past two years, unwittingly releasing the credit card information and social security numbers of innocent people.
Assange will remain the embassy for now. And it seems that with today's ruling, he won't be getting out anytime soon.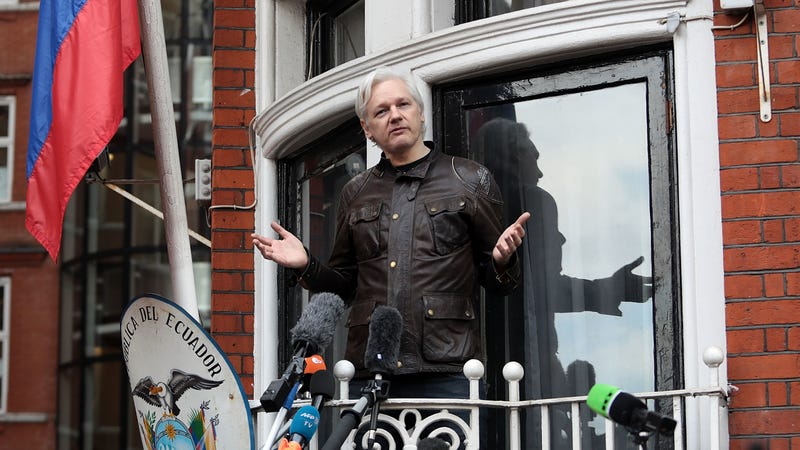 Today, lawyers for Julian Assange asked a court in the UK to drop the warrant that's currently standing for the WikiLeaks founder's arrest. Their argument? It's perhaps best summed up by the Fonz just saying "eyyyyyyyy" and walking off.
But it's hard to imagine anyone else in the UK skipping bail, hiding out for over five years, and reemerging to demand that the whole matter be dismissed. Again, that appears to be the Fonzie defense: Too cool to be prosecuted. Eyyyyyyyyy.
The WikiLeaks founder has been holed up in the Ecuadorian embassy in London for over five years now, and he'd really, really like to leave. Assange is actually free to leave anytime he likes, but British police will almost certainly arrest him the moment he steps foot outside. There's still an active arrest warrant for Assange since he skipped bail in 2012 on sexual assault charges in Sweden.
The prosecution for the Westminster Magistrates Court argued in a hearing today that Assange "was under a duty to surrender and he failed to surrender. Therefore, a warrant stands."
The charges against Assange in Sweden were dropped back in May, though Swedish prosecutors made it clear that if he ever left the embassy they'd still want to talk with him. And so would the British police, who don't take too kindly to people skipping bail and hiding.
The prosecution today said that it would be "absurd" for Assange "to be effectively rewarded with immunity from being dealt with by having managed to evade proceedings for sufficiently long enough for them to fall away."
Ecuador has grown frustrated with housing Assange for the past five and half years, and the president of that country recently called the silver-haired shit-stirrer "more than a nuisance." The country recently granted Assange citizenship with the hopes of granting him diplomatic immunity. But the UK says that it won't recognize diplomatic status for the fugitive.
Assange fears that if he's handed over to British or Swedish authorities he might be extradited to the United States for his role in the release of various government documents. The most important and noble of those releases being a 2007 video that was obtained by Chelsea Manning which showed American forces murdering civilians and journalists in Iraq.
Other releases have been far less valiant and recently released communications show a concerted effort to coordinate with the Trump regime in order to get immunity for Assange. The WikiLeaks head even went so far as to advise President Trump's son not to concede the US election if he lost in 2016.
Today's hearing was adjourned before a final decision was made and will resume on Tuesday, February 6th. We'll see if Assange's lawyers can come up with a better argument than eyyyyyy in the next couple of weeks.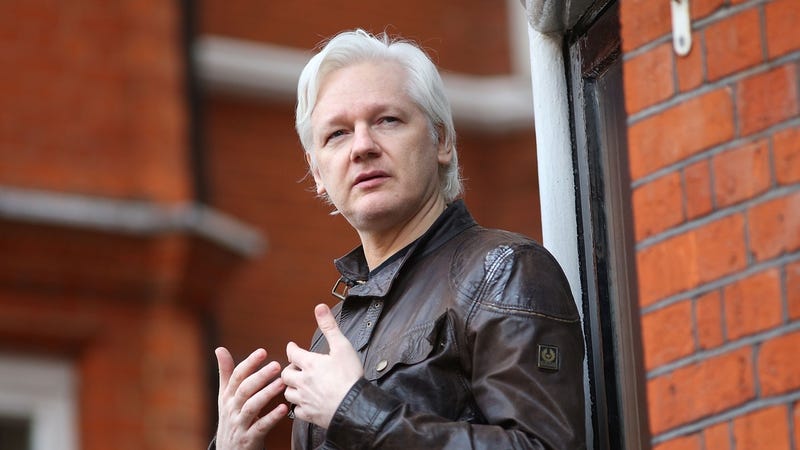 Julian Assange, the founder of WikiLeaks and just a general shit-stirrer, has been living in Ecuador's London embassy since the summer of 2012. But it doesn't look like the country has a plan for getting rid of Assange anytime soon. And the president of Ecuador is voicing his increased frustration with the entire saga.
Lenin Moreno, the current president of Ecuador, described Assange as "more than a nuisance" to his nation's TV stations on Sunday, calling Assange an "inherited problem." Moreno "inherited" Assange because the previous president, Rafael Correa, was the one to originally grant asylum to the Australian who became an ally of authoritarians like US president Donald Trump and Russian president Vladimir Putin.
Assange was in contact with the Trump campaign and released stolen Democratic emails before the 2016 presidential election, but Ecuadorian officials have become increasingly concerned with his interference and controversies around the globe since he started hiding in their cupboard. Ecuador has gone so far as to cut off Assange's internet access temporarily.
Assange took up residence in Ecuador's embassy to skip bail on two sex assault-related charges in Sweden in 2012. And despite the fact that charges have been dropped in Sweden on a technicality, British authorities have still promised to arrest him if he steps foot outside of the embassy. Any foreign embassy is considered that country's territory under international law and Assange is now on Ecuadorian soil, despite being in London.
Ecuador thought it had found the solution when it granted Assange citizenship earlier this month, hoping that the UK would recognize some kind of diplomatic immunity for the WikiLeaks personality. But the British say that nothing has changed and he'll still be arrested if he leaves.
"This would have been a good result," President Moreno said Sunday about the plan to give Assange citizenship and diplomatic immunity. "Unfortunately, things did not turn out as the foreign ministry planned and so the problem still exists."
During last year's presidential elections in Ecuador, Moreno promised not to evict Assange if he became president. His right-wing opponent, Guillermo Lasso, said that if he was elected, Assange would be kicked out within 30 days. Moreno won with 51 percent of the vote.
Ecuador's foreign diplomats say that they have no plans to kick Assange out of the embassy, despite their obvious frustrations with his presence. But Assange has floated other ideas about how he can get out.
"It would be real easy and helpful for your dad to suggest that Australia appoint Assange ambassador to DC," WikiLeaks told Donald Trump Jr. in a direct message through Twitter shortly after the election.
It seems rather unlikely that Assange's native Australia would approve of his cozying up to the American president. A majority of Australians (77 percent) believe that the world is more dangerous under President Trump. And given Assange's role in helping Trump ascend to that office, making the white-haired anarchist an ambassador to anything seems like a non-starter as the world has a good laugh (albeit through gritted teeth) at President Trump's incompetence.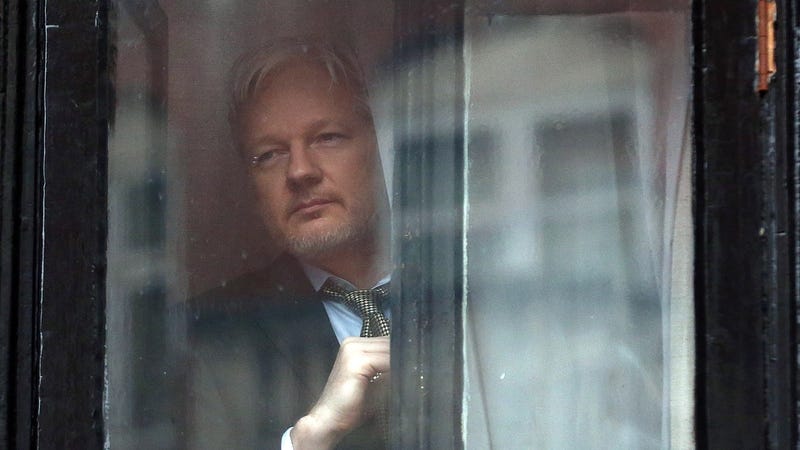 Julian Assange, who has been living in Ecuador's embassy in London for the past five years, is officially being granted Ecuadorian citizenship. What does that mean for Assange's future? It's still very unclear.
Assange has been in self-imposed exile since 2012 after it was clear that he may have to face charges that he sexually assaulted two women in Sweden. But this week has been a confusing one for the WikiLeaks founder, as rumors have swirled about him possibly leaving the embassy whether he wanted to or not.
Ecuadorian officials made the announcement that they would be granting him citizenship in a press conference just a short while ago, but Assange appeared to allude to his new status yesterday, tweeting a photo of himself wearing the jersey of Ecuador's national soccer team. Britain recently rejected Assange's bid for diplomatic status, leaving it to Ecuador to try and find a more permanent resolution than having Assange living in its embassy indefinitely. This appears to be just a first step to getting Assange out, though Ecuador has yet to say what next steps might look like.
Assange has claimed that he's being "held without charge" but he actually jumped bail in Britain and is free to leave the embassy anytime he likes. In fact, just before President Obama left office, Assange offered to leave the embassy if Chelsea Manning was granted a pardon. Manning was granted clemency, but Assange immediately went back on his promise. Assange suggested that Obama only granted Manning clemency to make Assange look like a liar.
"The government of Ecuador recently requested diplomatic status for Mr. Assange here in the U.K.," a Foreign & Commonwealth Office spokesperson said in a recent statement. "The U.K. did not grant that request, nor are we in talks with Ecuador on this matter. Ecuador knows that the way to resolve this issue is for Julian Assange to leave the embassy to face justice."
It's not clear what the impact of granting Assange citizenship in Ecuador will be, as he's still seen by the British authorities as a fugitive. Even Swedish prosecutors, who have dropped charges for the time being, said that if Assange leaves the embassy they'd like to talk with him about the sexual assault charges.
You can watch the press conference here, where officials acknowledge that citizenship doesn't allow for any kind of "international guarantees."
The long and the short of it? Assange isn't leaving the embassy anytime soon. Even with Ecuadorian citizenship, the British authorities and the Swedish authorities are still very interested in talking with him.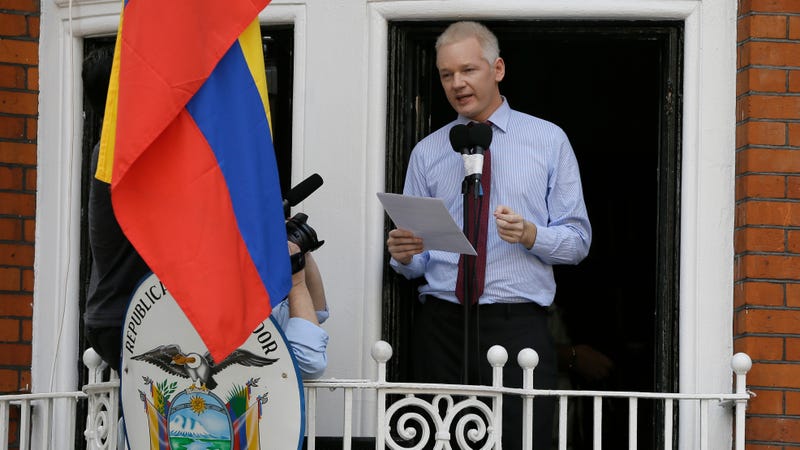 The government of the U.K. has denied a motion to grant Wikileaks founder Julian Assange, who has been holed up in the Ecuadorian embassy in London since 2012 over fears he could be extradited, diplomatic protections.
Per the Guardian, Ecuadorian officials made the request in hopes that if Assange was certified as one of their diplomats—reports indicate he already has Ecuadorian citizenship—he could finally leave the embassy without fear of being arrested for violating U.K. bail conditions by fleeing there in the first place. While Swedish prosecutors dropped extradition requests related to sex crime allegations in May 2017, Assange fears that if British police detain him, U.S. prosecutors will immediately issue an extradition request over Wikileaks' decision to publish troves of secret U.S. military documents.
Ecuador remains willing to shield Assange from any possible extradition for the immediate future but has no way of extracting him without London police interference, hence the impasse.
"The government of Ecuador recently requested diplomatic status for Mr. Assange here in the U.K.," a Foreign & Commonwealth Office spokesperson told the Guardian. "The U.K. did not grant that request, nor are we in talks with Ecuador on this matter. Ecuador knows that the way to resolve this issue is for Julian Assange to leave the embassy to face justice."
The Ecuadorian government has become entirely fed up with the dispute over Assange's status as it's dragged on, calling the situation "untenable." While Assange's presence at the embassy has become a point of international tension and some domestic political griping in Ecuador, the unending fallout from his alleged involvement in a Russian operation to influence the 2016 U.S. federal elections in favor of Donald Trump has also apparently strained his hosts' hospitality for some time. So it's possible that Assange may eventually be forced to vacate regardless of whether the police are waiting to scoop him up.
As his options have diminished, Assange has grown steadily weirder, issuing long-shot appeals to Trump and those in his orbit to help him get out of his jam. Trump's Attorney General Jeff Sessions is one of the people most determined to prosecute him.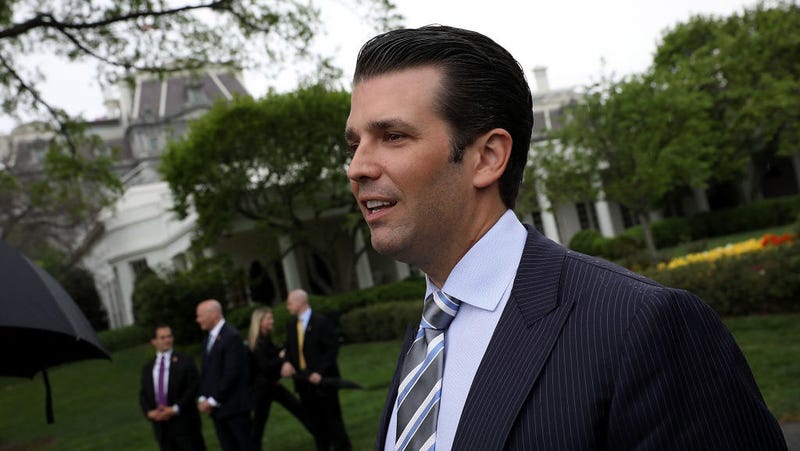 In the final months before the 2016 election, Donald Trump and his son, Donald Trump, Jr., both received an email containing a link and "decryption key" for Wikileaks files, CNN reported.
The implication, of course, is that the email was another bit of evidence that the Trump campaign was secretly in cahoots with Wikileaks during the election. And that might be true! But it appears CNN got the date of the email wrong, according to the Washington Post, rendering the whole thing inconsequential. Instead of offering an unpublished preview of Wikileaks documents, the email was actually sent after the Wikileaks documents it contained had already gone live.
CNN initially reported that the email arrived on September 4th—the first day that Trump Jr. tweeted about Wikileaks and Hillary Clinton's emails. But the email actually came 10 days later, on September 14th, according to the Post, which also obtained a copy. It directed the recipients to Democratic National Committee emails posted on Wikileaks and emails hacked from Colin Powell, which were released by DC Leaks—not Wikileaks.
The email was signed by someone identifying himself as Mike Erickson, but it is not clear who sent the email, which came from a Yahoo address, according to the Post.
Trump Jr. told House Intelligence Committee investigators that he didn't remember receiving the email.
Julian Assange, the founder of Wikileaks, downplayed any connection to the email, tweeting, "It's not clear what this has to do with @wikileaks. Many enthusiastic readers emailed around archives of our publications during the election."
The message arrived after the hack of the Democratic National Committee had become public, but prior to Wikileaks' release of Clinton campaign manager John Podesta's emails.
"We understand that the media reported 12 hours prior to this email that the DNC emails had been hacked or leaked," Alan Futerfas, a lawyer for Trump Jr., told CNN. "We do not know who Mike Erickson is. We have no idea who he is. We never responded to the email."
A few weeks after Trump Jr. received the email offering Wikileaks documents, he engaged in a conversation with the organization via Twitter DM. Wikileaks encouraged Trump Jr. to promote its documents and asked him to leak his father's tax returns. Eventually, he broke off the correspondence.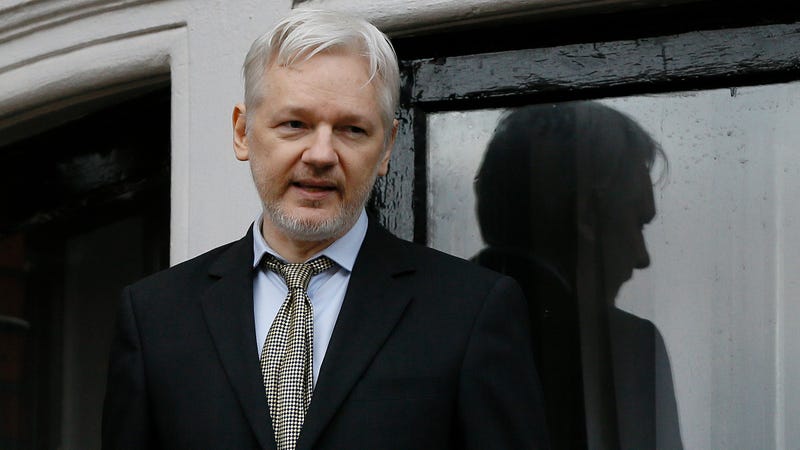 Julian Assange—whose organization Wikileaks' sad, thirsty Twitter DMs to Donald Trump Jr. recently leaked, revealing he sought to coordinate with Donald Trump's presidential campaign—appears to have had a moment of buyer's regret on Tuesday evening.
Upon hearing the Republican-controlled FCC had finally scheduled a vote to scrap Barack Obama-era net neutrality rules, potentially enriching massive digital conglomerates at the expense of the open web, some brief glimmer of the old Assange seemed to spark back to life. But not really very brightly, as he was only able to express his opposition to the White House-backed change in the form of convoluted pretzel logic posited as a Machiavellian 4-dimensional chess move.
"Dear @realDonaldTrump," Assange wrote. "'Net neutrality' of some form is important. Your opponents control most internet companies. Without neutrality they can make your tweets load slowly, CNN load fast and infest everyone's phones with their ads. Careful."
As Assange has continued to hole up in the Ecuadorian embassy in London for years while attempting to avoid extradition, Wikileaks has largely fallen apart and his originally stated mission of radical transparency has increasingly given way to bizarre pro-Trump ramblings, suspiciously biased editorial decisions, and Twitter braggadocio.
To Assange's credit, while appealing to the president's manically paranoid psychology is not actually how public policy decisions should be made, that is one of the few approaches capable of grabbing his attention. Anti-trust advocates may have won a similar victory recently when Trump's Department of Justice sued to block a (very bad for the public interest) merger between AT&T and Time Warner, possibly because Trump hates Time Warner subsidiary CNN with an unholy passion.
Alas, Assange is still probably barking up the wrong tree. Pai's agency is ostensibly independent, and Pai is very committed to repealing the neutrality rules, so even the unlikely event of a last-minute pivot from the White House might not be enough to blunt his momentum. It's yet even less likely that Republicans in Congress, who are broadly anti-net neutrality, would be willing to override the FCC to bring back an Obama-era directive.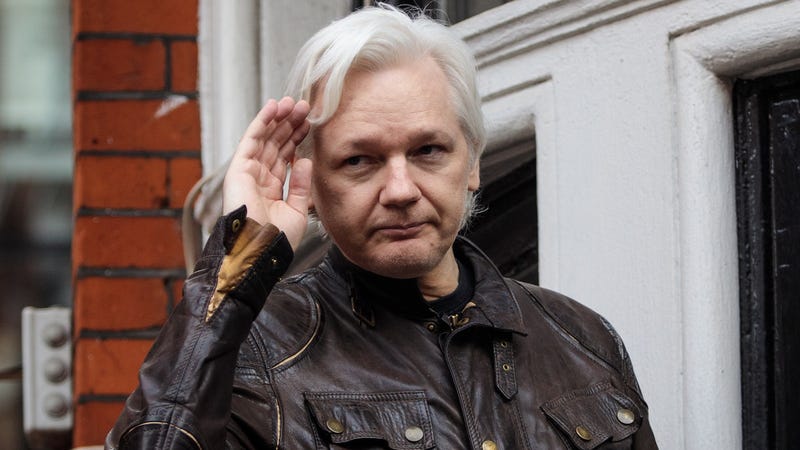 Throughout the 2016 election and for the better part of this year, WikiLeaks sent private messages via Twitter to the president's deadlifting adult son Donald Trump Jr., according to newly leaked correspondence first reported byThe Atlantic. Trump Jr. only occasionally responded and apparently ceased all communication less than a month before the election.
The chats, which were also handed over to congressional investigators, started last summer after WikiLeaks began releasing a trove of emails poached by hackers from prominent Democratic Party members—the product of Kremlin-directed cyberattacks, according to the US intelligence community, as well as multiple private security firms that examined the DNC's corpse of a server. The communications, which Gizmodo has not confirmed independently, reveal an intense thirst on the part of WikiLeaks founder Julian Assange, who clearly holds a candle for Donald Trump.
Although WikiLeaks, which denies being a Russian puppet, did the lion's share of the talking, it appears that in some cases Trump Jr. actually conveyed the whistleblowing website's requests through to the highest echelons of his father's presidential campaign. Following their initial chat, in which WikiLeaks warned Trump Jr. that "anti-Trump site putintrump.org is about to launch," Trump Jr. reportedly alerted, among others, Steve Bannon, Kellyanne Conway, and Trump son-in-law Jared Kushner.
The various requests WikiLeaks made of Trump Jr. grew increasingly bizarre as time marched on.
"It would be real easy and helpful for your dad to suggest that Australia appoint Assange ambassador to DC," WikiLeaks suggested a little more than a month after the election. The account—almost certainly with WikiLeaks founder Julian Assange behind the keyboard—went on to suggest how Trump might frame the argument: "'That's a real smart tough guy and the most famous australian you have!' or something similar," WikiLeaks wrote in a transparent attempt to capture Trump's inarticulate style.
About a month before the election—and 15 minutes after WikiLeaks notified Trump Jr. that it had released the fourth set of emails stolen from Hillary Clinton's campaign chairman, John Podesta—then-candidate Trump tweeted, "Very little pick-up by the dishonest media of incredible information provided by WikiLeaks. So dishonest! Rigged system!"
After Donald Trump proclaimed, "I love WikiLeaks!" during an October 10th campaign rally, WikiLeaks messaged Trump Jr: "Hey Donald, great to see you and your dad talking about our publications."
WikiLeaks also had a plan for if Trump lost the election, which it reportedly conveyed to Trump Jr. on Election Day: "Hi Don if your father 'loses' we think it is much more interesting if he DOES NOT conceed [sic] and spends time CHALLENGING the media and other types of rigging that occurred—as he has implied that he might do." WikiLeaks continued: "The discussion can be transformative as it exposes media corruption, primary corruption, PAC corruption, etc."
In July of this year, WikiLeaks asked Trump Jr. to consider handing over his father's tax returns. While running, Donald Trump promised to release his tax records on numerous occasions, though he, of course, never did. WikiLeaks suggested that doing so would rob his opponents of a valuable talking point, according to The Atlantic. "Us publishing not only deprives them of this ability but is beautifully confounding," WikiLeaks argued.
According to The Atlantic, Trump Jr. never once told WikiLeaks to fuck off. He instead tweeted out links Assange secretly sent him.
Alan Futerfas, an attorney for Trump Jr., told the magazine that he had been cooperating with investigations into ties between Trump campaign officials and the Russian government, and had turned over thousands of documents so far. "Putting aside the question as to why or by whom such documents, provided to Congress under promises of confidentiality, have been selectively leaked," Futerfas said, "we can say with confidence that we have no concerns about these documents and any questions raised about them have been easily answered in the appropriate forum."
Gizmodo reached out to WikiLeaks for comment via a Twitter DM. We'll let you know if they respond.
Update, 6:30pm: Julian Assange has started tweeting about the story:
A recent ABC News story about special counsel Robert Mueller's investigation regurgitated one of today's prevailing narratives. "Mueller's team appears increasingly focused on whether any associates of Trump knew that the Russian government had hacked emails from the DNC [Democratic National Committee] and Democratic candidate Hillary Clinton's campaign chairman John Podesta and provided them to […]
Julian Assange and phony narratives
By Mark Luedtke
A recent ABC News story about special counsel Robert Mueller's investigation regurgitated one of today's prevailing narratives. "Mueller's team appears increasingly focused on whether any associates of Trump knew that the Russian government had hacked emails from the DNC [Democratic National Committee] and Democratic candidate Hillary Clinton's campaign chairman John Podesta and provided them to Wikileaks during the last presidential election, according to those sources," it claimed.
But Julian Assange, the head of Wikileaks, denies he received the emails from Russian hackers. Not only that, Buzzfeed reported, "The DNC had several meetings with representatives of the FBI's Cyber Division and its Washington (D.C.) Field Office, the Department of Justice's National Security Division, and U.S. Attorney's Offices, and it responded to a variety of requests for cooperation, but the FBI never requested access to the DNC's computer servers."
Some sources say the FBI never requested access to the computers. Others say the DNC denied the FBI access. It doesn't matter which is true. Both are ridiculous. Either way, the conclusion that Russia hacked the computers was reached before any investigation began. No evidence of a hack was collected because it might have contradicted the conclusion.
Yet the narrative not only persists, it's presented as fact. The only person we know of who can contradict it is Assange. Rulers consider Assange one of the most dangerous people in the world because he's a truth-teller. He exposes their evil secrets. They can't control him the way they control the establishment media.
Assange is so dangerous, while Secretary of State, Hillary Clinton reportedly suggested the U.S. should assassinate Assange with a drone strike. She claims she doesn't remember saying that, but documents leaked by Edward Snowden show Assange is on the U.S. manhunt list.
But rulers didn't need to assassinate the Australian native. They used other tools to silence him. Assange was accused of rape by women including one who happened to work with an anti-Castro group run by the CIA. That could be coincidence, but it sure was convenient. Assange denies the charges. If apprehended for those charges, Assange expects the U.S. to file some terrorist-like charges against him and have him extradited, so he sought and was granted asylum in the Ecuadorian embassy in London to avoid arrest. He's been holed up there since 2012. British police have spent over £12 million trying to arrest him.
Patience is paying off for rulers. Assange's situation is dire. He hasn't been in the sun since he entered the embassy. Under pressure from the US, Ecuador's new president cut off Assange's access to the internet, restricted visitors, and is considering evicting him.
Writing at Consortium News, John Pilger reports, "I have watched Assange's health deteriorate in his years of confinement without sunlight. He has had a relentless cough, but is not even allowed safe passage to and from a hospital for an X-ray."
Pilger explains why Assange is being persecuted. "No investigative journalism in my lifetime can equal the importance of what WikiLeaks has done in calling rapacious power to account. It is as if a one-way moral screen has been pushed back to expose the imperialism of liberal democracies—the commitment to endless warfare and the division and degradation of 'unworthy' lives, from Grenfell Tower to Gaza."
Pilger claims Assange was vindicated in the rape cases which were dropped. Evidence, what the FBI lacks, supports Assange's vindication.
Rulers seem content to let Assange die a slow death in isolation to protect their narrative, but there's another loose end. Assange has hinted that Seth Rich, a DNC staffer assassinated on the street in Washington D.C., leaked the emails to Wikileaks. That murder has never been thoroughly investigated, and evidence in that crime hasn't been released. Seymour Hersh claims the FBI accessed Rich's computer, unlike the DNC computers, and discovered he transferred the DNC and Podesta emails to Wikileaks through a dropbox account.
Rich claimed other people had access to the dropbox password, but they're unlikely to talk because they don't want to be assassinated, too.
But none of the information contradicting the narrative makes it into the establishment media because that media is controlled by the same rulers who control the government. Pilger calls the establishment media the Vichy Media, referring to the government of unoccupied France during WWII.
Assange is a hero for exposing so many government lies and atrocities, and he remains our best hope for exposing the phony Russia-gate narrative. Hopefully Australia's rulers will save him.
The views and opinions expressed in Conspiracy Theorist are the views and/or opinions of the author and do not reflect the views and/or opinions of the Dayton City Paper or Dayton City Media and are published strictly for entertainment purposes.