UPDATED ON
12/22/2018
3:37:56 PM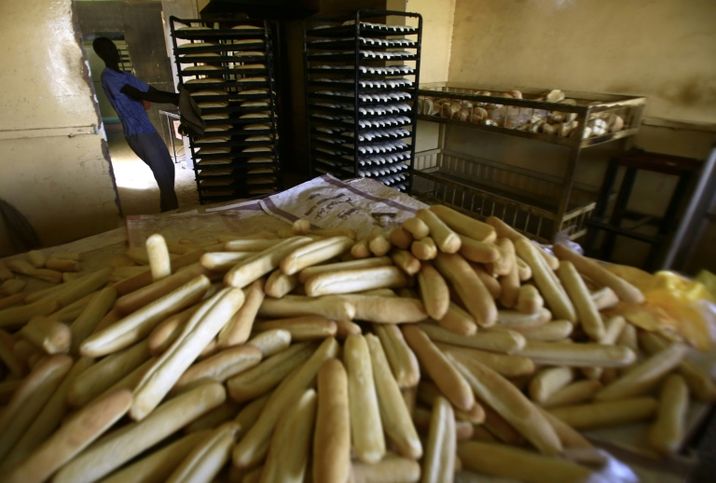 Eight people have been killed in Sudan in clashes with riot police during protests over the rising price of bread
ASHRAF SHAZLY (AFP/File)
Protests over the cost of bread might have killed 22, as censorship grips citizen and established media.
Sudan's National Intelligence and Security Services (NISS) chief Salah Gosh blamed the Israeli secret service Mossad for protests over the cost of bread
"The protests are about much more than to protest against bread price," he said in a briefing to the Sudanese press.
This comes one day after Gosh himself established strict censorship methods in the country, asking for NISS to be consulted before any paper going to press.
During the briefing, Gosh denied reports that the police, or NISS units had opened fire on protesters, despite the fact that video evidence to the country has been widely available
The intelligence head accused rebel leader Abdel Wahid al-Nur of using the protests to carry out violent attacks on government property.
He also gave the media a scoop on a contingent of rebels that had just returned from Nairobi, saying some of them had been recruited by the Israeli intelligence service.
The Mossad does not comment on its operations abroad, but very little credence could be led to the claims.
According to the New York-based Committee to Protect Journalists, there were also multiple reports of disrupted internet service, especially for social media sites.
The picture shows XRay of a female patient rushed to emergency in Atbara North of Sudan after she participated in the peaceful protests. This represent clear evidence that the Sudanese government is using bullets to kill protesters.#Sudan_revolutiin3 #مدن_السودان_تنتفض
234 people are talking about this
– 22 dead in four days –
Sudan's main opposition leader Sadiq al-Mahdi on Saturday blamed "armed repression" for the death of 22 people in days of protests over the rising cost of bread, although officials gave a lower death toll.
A government decision to increase the price of a loaf of bread from one Sudanese pound to three (from about two to six US cents) has sparked demonstrations across the country since Wednesday.
"We condemn the armed repression of demonstrations," said Mahdi, leader of the Umma Party, during a press conference in Omdurman on the west bank of the Nile.
While officials give a lower death toll, Mahdi said "22 people were martyred and several others wounded". He gave no further details regarding the death toll, which could not be independently verified.
The protests first erupted in the eastern city of Atbara before spreading to Al-Qadarif, also in eastern Sudan, and then to the capital Khartoum and twin city Omdurman and other areas.
Two demonstrators were killed in Atbara and six others in Al-Qadarif, officials had said Thursday, as protesters torched offices of President Omar al-Bashir's ruling National Congress Party (NCP).
Mahdi called for a "national and international investigation" into the deaths and said demonstrations will continue to rock Sudan.
The protest movement "is legal and was launched because of the deteriorating situation in Sudan," he said in his first news conference since returning home on Wednesday after almost a year in exile.
A fixture of Sudanese politics since the 1960s, Mahdi was prime minister from 1966 to 1967 and again from 1986 to 1989.
His government was the last one to be democratically elected in Sudan, before it was toppled by a 1989 coup launched by Bashir.
Since then Mahdi's Umma Party has acted as Sudan's main opposition group and has regularly campaigned against the policies of Bashir's government.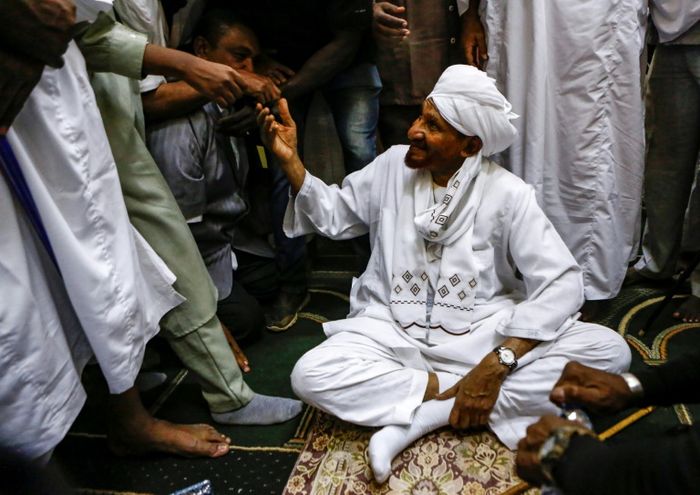 Sadiq al-Mahdi, Sudan's ex-prime minister and leader of the opposition Umma Party, is greeted by supporters in a mosque in the capital Khartoum's twin city of Omdurman on December 19, 2018 after his return from exile
ASHRAF SHAZLY (AFP/File)
– Demonstrations spread –
According to witnesses, demonstrations spread on Saturday to several more cities.
Around 300 people gathered in the centre of Wad Madani, south-east of Khartoum, "chanting 'the people want the fall of the regime'," one witness told AFP by phone.
Police responded with tear gas and by hitting the protesters with batons, he added.
In El Rahad south-west of Khartoum, hundreds of demonstrators shouting "no to hunger" were tear gassed, while administrative premises and the office of the NCP were set on fire, according to another witness.
North of the capital in Al-Obeid protesters clashed with police who fired tear gas, witnesses told AFP.
Government spokesman Bashar Jumaa had on Friday warned that authorities "will not be lenient" with those who set state buildings on fire or cause other damage to public property.
Opposition members have also been detained, according to Sadiq Youssef from the National Consensus Forces alliance.
He said 14 members of the coalition including its president, Farouk Abu Issa, were arrested as they left a meeting.
The arrests could not be officially confirmed.
The demonstrations follow a year of mounting economic woes in Sudan, where the cost of some commodities has more than doubled.
Inflation is running at close to 70 percent and the Sudanese pound has plunged in value, while shortages have been reported for the past three weeks across several cities including Khartoum.
Demonstrations broke out in January over the rising cost of food, but they were soon brought under control with the arrest of opposition leaders and activists.
A presidential adviser, Faisal Hassan Ibrahim, said the latest protests were being manipulated by "organised entities" without naming particular groups. He said two of those killed in Al-Qadarif were military in civilian clothes.
Also on Saturday, Sudan's national news agency SUNA reported that Bashir appointed a senior officer from the powerful National Intelligence and Security Services (NISS) as governor of Al-Qadarif.
Mubarak Mohammed Shamat will replace Mirghani Saleh who was killed in a helicopter crash on December 9, SUNA said.