Tomorrow, Hardeez/Carls Jr. will make 420 history with releasing a new hemp sauce burger on the proud American tradition of "National Smoke Weed Day."
Look at it.. Warning you can't eat your computer screen!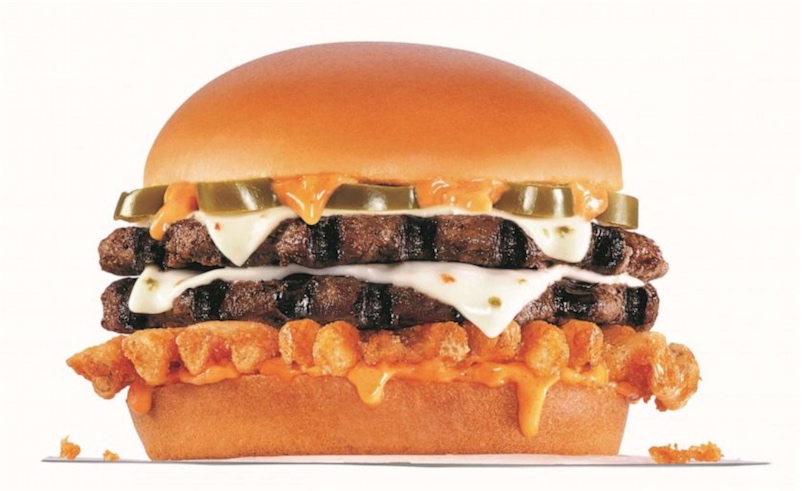 On April 20 (4/20)  the craze in cannabidiol—or CBD—is going to the fast food chains for the first time at their Denver, Colorado locations.
It's called the Rocky Mountain High: CheeseBurger Delight with featuring CBD in the sauce.
You read it right, the 4/20 special sauce at Carl's Jr. includes CBD for the happy hemp customer.
The special costs $4.20– it comes with two beef patties, jalapenos, pepper jack cheese — and about 5 milligrams of hemp-derived CBD extract.
This is sure to take the fast food industry to  higher levels of consciousness.
Smoke/Eat up while supplies last!
CNN:
"It is something that feels right for the brand," (Carl's Jr. senior vice president of brand marketing Patty Trevino) told CNN Business. "We are all about innovation…"

The chain first decided to explore CBD in January, after introducing a product based on another trend. Earlier this year, the chain announced a plant-based alternative to its signature burger in partnership with Beyond Meat.

"I was sitting down with our head chef Owen Klein, and we were talking about trends," Trevino said. After the Beyond Meat launch, they came up with a wish list that included a CBD product. "We looked at ourselves and said, you know what, let's try."

Starting small, in a market where cannabis regulation is "really strong," will allow Carl's Jr. to figure out how to move forward. Testing CBD could give the company an edge over competitors, because most of its locations are in Western states, where recreational cannabis is legal.